The vandalism just goes
on and on and on...
These pictures speak volumes for the decrepit state of Vansittart Road Recreation Ground.
The wrecked water fountain installed in the spring.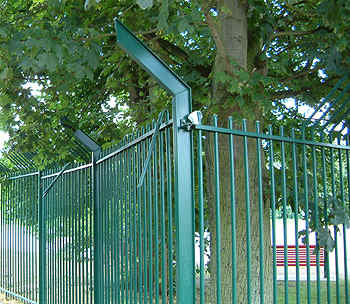 The Alcatraz fencing installed in December 2002 at a cost of around £30,000 now usefully reduced in height to permit late night access.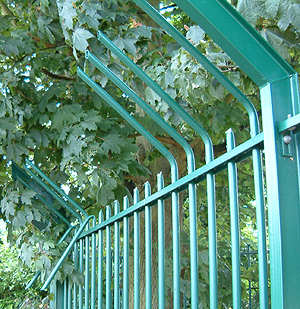 The costly, useless, ugly fencing
The angled bars at the top of the fencing are easily grabbed and bent downwards. They are then simply broken off completely. There is something wrong somewhere. Either the fencing suppliers knew that the specification for the fencing bars was not vandal resistant, or the council specified too cheap a material to save money... Either way the fencing is a total waste of money. It does not keep skaters out at night and it looks appalling.
In addition, on or around 4th July work was undertaken to strengthen these angled bars by securing a strengthening bar throughout each section of fence.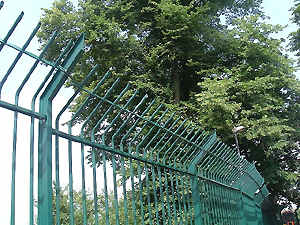 A support now strenthens the angled bars on the Vansitrtart Road Skate Park fencing...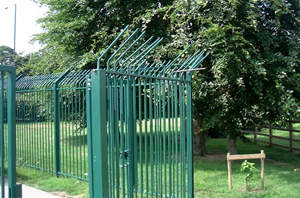 ...although where it has already been broken or bent, no remedial action has yet been taken. (As of July 9th 2003)

Although the newly installed bar is welded at the far end, at this end, the bar is merely wired to the vertical support.
Six months after the borough launches its blitz on graffiti!!!

July 2003 and the dull and depressing underpass, regularly defaced.
In early January RBWM trumpeted their latest initiative against graffiti in the Borough. Many residents were skeptical at the time but were prepared to give the borough another chance, especially as this time they seemed to be putting some money behind the scheme and were prepared to publicise their attempt at cleaning up the borough. Surely no council would launch a scheme such as this and then be clearly seen to have failed??? Surely...?
Police powerless
For one reason or another, the police are unable to apprehend the vandals that cause the damage in the borough, even when telephoned about an incident as it happens and with the vandals still close-by. It is no surprise that residents' frustration continues to mount. One young lad has reported that he and his friends will not go to Vansittart Road Recreation Ground anymore "... they've got knives ..."
Index and Contact Phone Numbers
GRAFFITI
LINE

01628 796150

Report graffiti here - the Borough have claimed in the local press that it should be removed within 5 days or sooner. Racist or obscene graffiti should be removed immediately. Please ring again if it is not!!

Emergency
Telephone Numbers

Police
01753 506000

RBWM
Office Hours
01628 796468
(Not Saturdays or Sundays)

RBWM Control Room
(Evenings and weekends)
01753 853517
30th July 2001
Hot weather aggravates the continuing problems fro those living nearby
Read report

August 2001
Holidays, a Skate Park death on the south coast, trouble at Maidenhead Skate Park and letters of complaint from nearby elderly residents. Read report

November 2001
A million pounds available for the Leisure Centre?? Local residents demand that the Skate Park be moved there as part of the upgrade plans! Also includes other news from Vansittart. Read report

December 2001
Royal Borough wrecks Vansittart Road Underpass with puce paint. Read article

Summer 2002
Difficulties continue for local residents, but some encouragement from elsewhere in the country. Read article

Winter 2002/Spring 2003
Alcatraz style fencing erected at a cost of around £30,000 in December and Oxford tip sand over theirs! Read article

Related articles

Emergency
Telephone Numbers

Police
01753 506000

If you see someone damaging the play area or skate park, spraying graffiti, or if you need to report a disturbance or problem of any kind please ring the local police 01753 506000. Even if the police cannot attend, make sure the incident is logged. If it is not logged, then the Borough will not see the incident in the 'reported figures' and will assume that all is fine and dandy!

RBWM
Office Hours
01628 796468
(Not Saturdays or Sundays)

RBWM Control Room
(Evenings and weekends)
01753 853517

Use these numbers to report anything that requires repair or maintenance or may be dangerous.

---



To contact us, email Thamesweb.




---