Park Street and the Post Office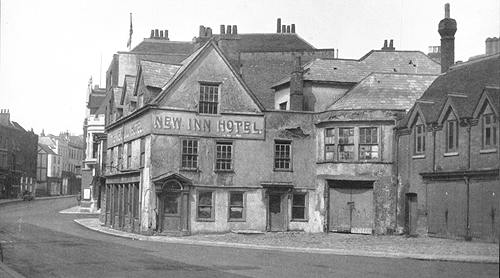 The New Inn Hotel at the junction of Park Street, Sheet Street and High Street with the General Post Office beyond, see below. The New Inn Hotel is reported to have been demolished in the autumn of 1931.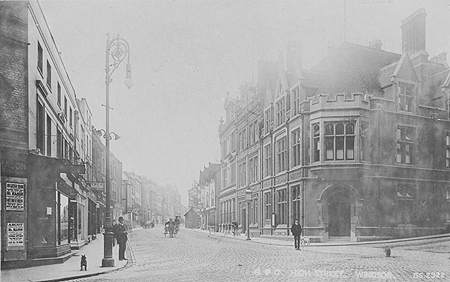 'An A & G Taylor 'Reality' Series postcard. Genuine Silver Print Photograph'.
The caption reads 'GPO High Street Windsor BS2922' and was taken in 1904.
The posters to the left are on the premises of Mr Mason, Estate Agent, and are dated 1904. Although this picture is faded it is of considerable value and rare. It shows on the right the GPO Post Office and the Constitutional Club, demolished in c.1972, and beside it the London & County Bank which in later years became the Westminster Bank and then the National Westminster Bank (NatWest). The Union Hotel, beyond the bank, was demolished some years ago. A small hut is situated on the roadway, perhaps the hackney carriage driver's kiosk. Note the road is still cobbled and that there are two animals in the picture, a 'Scottie' dog to the left and a cat on the road far right.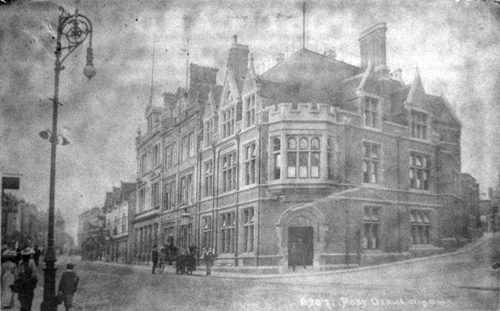 Here is another view of the Post Office, again dating from 1904 or before, quite possibly taken at the same time as the A & G Taylor image above. Sadly this print is badly faded so we have enhanced the image as best we can by computer. The caption reads 6907 Post Office Windsor and was published by John Walker & Co Ltd, London (Bells Series). Although not published by Taylors, it is possible that they sold the image to Walkers, or vice versa.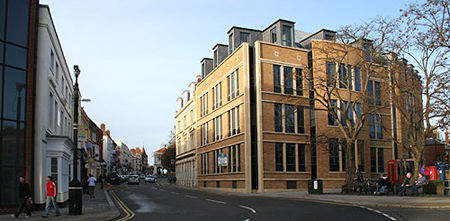 The latest building on the site of the Victorian Post Office
New Year's Day 2007
---

To contact us, email Thamesweb.


---