Castle Hill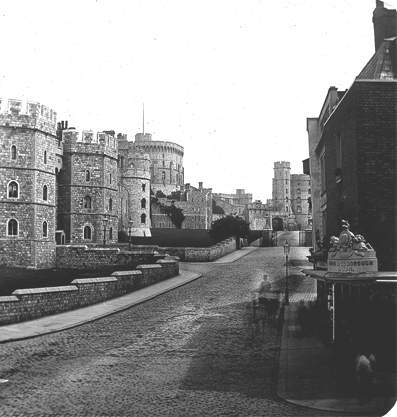 The image above comes from a glass stereoview of Castle Hill from the 1860s and originally taken by the great photographer George Washington Wilson. (#907). We are grateful to John Saddy of Saddy Auctions, Canada, for permission to include this image here.
There is of course no statue of Queen Victoria yet as that was not to be erected until 1887.
The shop on the corner features a Royal Warrant as issued by Queen Victoria to favoured local businesses, in this case to John Bedborough and Son. James Thomas Bedborough, 1787-1860, had been Mayor in 1846-47 and again in 1853. His son, Thomas James Bedborough, 1810-1851 had been a councillor from 1844-1847. Both were builders by profession. We are hoping to find out more about John Bedborough and his son who have obviously moved into the retail trade.
Finally, note the ghostly image of the Hackney Carriage by the lamp-post. With exposure times a number of seconds in these days, it would have been almost impossible to obtain sharp images of animals, or unsuspecting humans, at that time as the slightest movement would create a 'ghost' image on the photographic plate.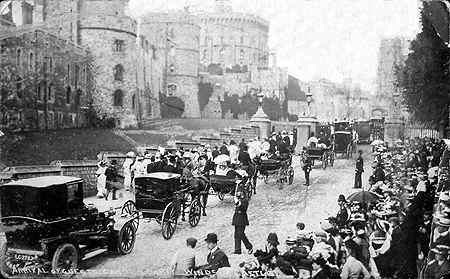 Guests arriving at the castle in 1907, probably for a Royal Garden Party.
A most interesting shot showing in 1907 how at least one family had made the transition from horsedrawn carriage to horseless carriage. This day was obviously a special event as there are a good many onlookers watching the invited guests arrive. We shall do some research and see if we can identify the event which was during the reign of Edward VII.
---

To contact us, email Thamesweb.


---