The Windsor History Zone Index
The Royal Windsor Website Home Page

The Statue of Queen Victoria
Windsor, 1887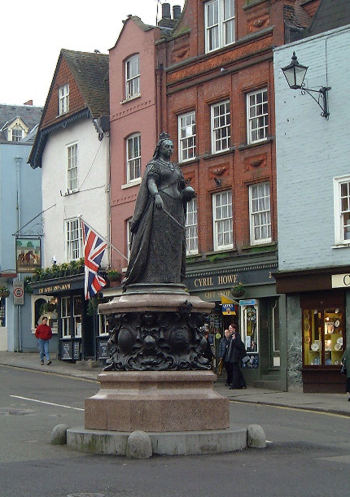 The Statue of Queen Victoria, 2001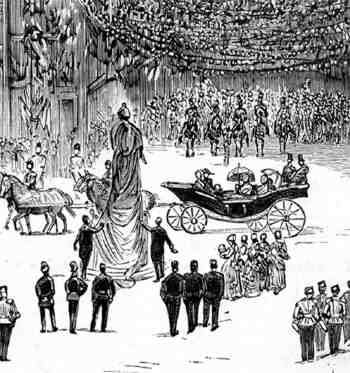 The unveiling of Queen Victoria Statue, 1887 [detail]
Click here for complete image of Unveiling Ceremony 1887
This fine bronze statue of Queen Victoria was designed and executed by Sir Edgar Boehm. It was erected in 1887 in celebration of the queen's Golden Jubilee. The cost of £2,500 was covered by subscriptions from the people of Windsor and the surrounding districts. The base is of red granite.
Sir Joseph Edgar Boehm (1834-1890) was born to Hungarian parents in Vienna, Austria, where he was educated, later coming to England to further his studies. He was to become one of the foremost British sculptors, settling in England in 1862. He was naturalised British in 1865. He died just three years after creating the Queen Victoria statue. Queen Victoria commissioned him to create bronzes of her family and statues at Windsor Castle. He was appointed Sculptor in Ordinary to the Queen in 1881. A biography of Sir Edgar Boehm is here.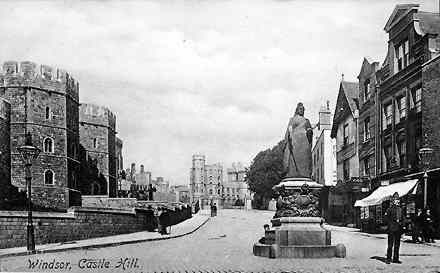 A classic postcard view from the early 1900s of Castle Hill, The Queen Victoria Statue and the castle beyond. Little has changed, perhaps the policeman's uniform, the cobbled street has since been tarmaced, and the wall to the left around the lawns was removed in 1961. [See Civic Trust Scheme]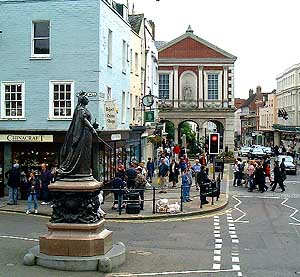 The Queen Victoria statue looking towards The Guildhall

This photograph shows a rare view of Queen Victoria's statue complete with its canopy, erected for the celebrations of Queen Victoria's Diamond Jubilee in 1897
The picture was originally captioned as follows:
Here, in her own loyal Borough of Windsor, under the walls of the famous castle, The Queen is receiving an address of congratulations and welcome from the Mayor and Corporation of Windsor, who, in their robes of office, form a little scarlet group by the side of the royal carriage. The Household Cavalry and the Foot Guards line the streets and furnish the escort. There are many stately palaces in the world, but there is none more stately than Windsor Castle. The ancient home of the Sovereigns of England, standing high above the 'silver Thames', looks down over the towers of the royal foundation of Eton and over the rich valley of the winding river - a perfect picture of stately magnificence and emblem of a long tradition of royal splendour and dignity.
A little over three years later Queen Victoria's coffin was to be brought to Windsor and laid to rest at Frogmore alongside her beloved Albert. Queen Victoria's Funeral in Windsor
---
See also
Queen Victoria's Funeral in Windsor
The Windsor History Zone Index
The Royal Windsor Website Home Page
---


To contact us, email Thamesweb.



---