Kipling Memorial Building 1939
Imperial Service College
and Windsor Corporation Offices
Alma Road, Windsor
Kipling Memorial Building, 'Kipling Building', was built in 1939 and completed within days of the outbreak of World War II on September 29th 1939, only a little late for the start of the Christmas Term of Imperial Service College. There is more information about Kipling Building and the history of ISC in Windsor here.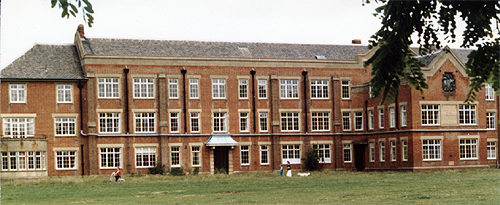 Kipling Building from the lawn - 1
Each end of Kipling Building was designed to include Masters' homes. The stone bay window to the extreme left of this picture and the altered roofline show this accommodation.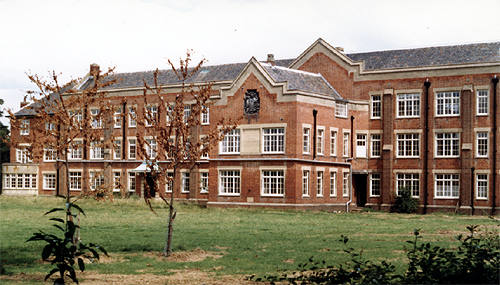 Kipling Building from the lawn - 2
Note the Rudyard Kipling Plaque in the centre of the building and the Foundation Stone between the windows at ground level.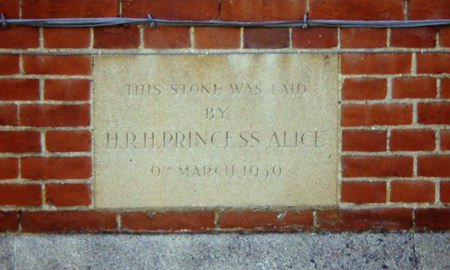 The Foundation Stone laid by H.R.H. Princess Alice on 9th March 1939.
Within three years, in 1942, ISC had left Windsor following the merger with Haileybury School at Hertford.
In 1943 Windsor Corporation purchased the building for £37,000 although by now it was let to the War Office. Windsor Corporation was not to take over the facilities until 1949.
Below we feature views of, and from, Kipling Building taken during the post-war years before its sad demise.
A view from the second floor of Kipling Building looking NE towards Windsor Castle. Note the cycle racks along the northern perimeter and the brick bomb shelter adjacent to Camperdown House. This picture dates from circa 1969.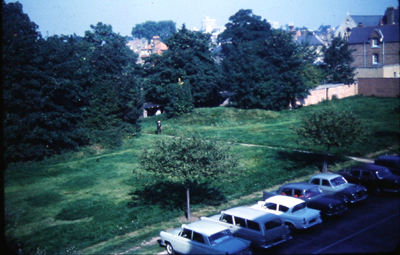 A similar colour view towards Windsor Castle taken in September 1963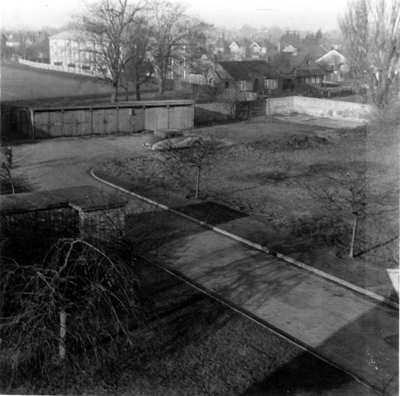 Another view from the second floor of Kipling Building looking NW. Note the six garages along the western perimeter. Immediately to the left of these garages were the double gates that were open all day and every day throughout the year, except on Christmas Day, when they were shut to comply with the requirements regarding right of way. Another brick bomb shelter can be seen centre left of this picture which dates from dates from circa 1969.

A view to the west of the area north of Kipling Building in the late 1970s with Cromwell Cottage beyond, (see enlarged view below), the blue doors of six lock-up garages and the car park, enlarged several years earlier. Camperdown House, formerly a dormitory for ISC school, is to the right.

A close-up of the view of Cromwell Cottage, the air-raid shelter
and the western end of Kipling Building. (Extract from photo above)
1981 and Construction Begins Around Kipling Building
In the summer of 1981 the Rank Hovis MacDougal company commenced construction of their UK head office. Initially construction work continued around the former Corporation offices.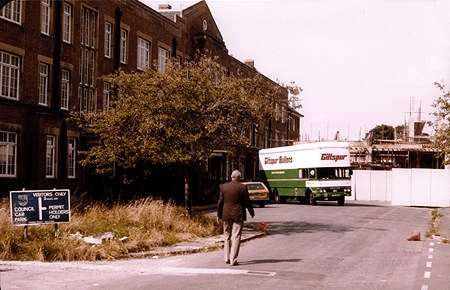 Kipling Building, north side, as a removal pantechnicon begins to empty the council offices

Kipling Building from the NW with construction in the foreground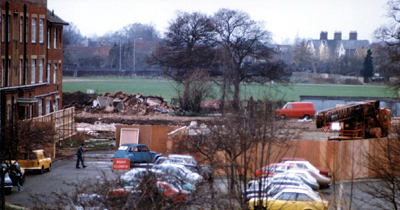 Kipling Building from the E following demolition of Cromwell Cottage and the air-raid shelter.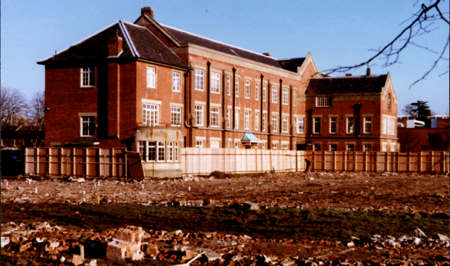 Land clearance to the west and south of Kipling Building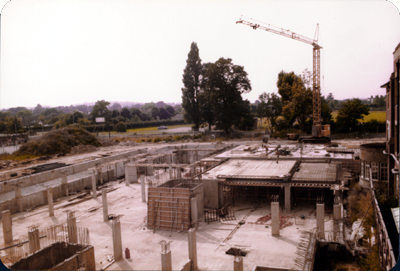 Construction on the lawns south of Kipling Building and looking towards Goslar Way and Vansittart Recreation Ground.