See also Vansittart Recreation Ground Skate Park and Graffiti in the Borough
Back to Windsor Home Page
Oakbridge Centre's
Millennium Mural Restored

See also Vansittart Recreation Ground Skate Park and Graffiti in the Borough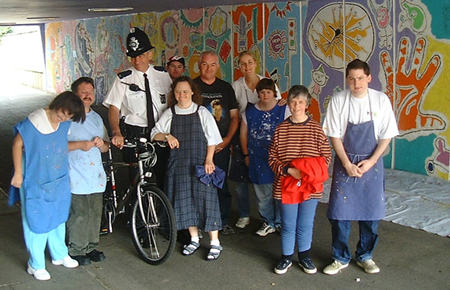 The Restoration crew from The Oakbridge Centre
From left to right: Julie Daines, Anthony Alderton, Ray Dawes from Windsor Police, Amanda Sheppard, Paul Gatehouse, Keith Bennett, Ellie Anderson (Team Leader), Eileen Akers, Pat Day and Jon Steele.
Congratulations are due to the Oakbridge Team above who have so beautifully restored the Millennium Mural at the underpass running beneath Goslar Way, between York Avenue and Vansittart Road. (13th August 2001)
As soon as the Millennium Mural had been restored to its original glory, a firm of contractors was called in to protect the walls with a graffiti resistant coating which will permit easy removal of any future vandalism.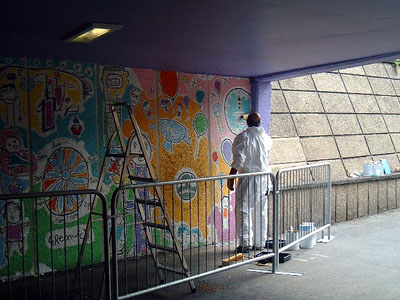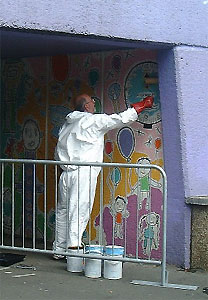 Applying the protective layer by roller
We look forward to the cleaning and repainting of other areas of the underpass which has been severely defaced. As at the end of August the opposite wall remains as bad as ever.
The matter was eventually addressed in December 2001 when the facing wall was painted 'puce' in December 2001, much to resiudents fury! Read report

See also Vansittart Recreation Ground Skate Park and Graffiti in the Borough
Back to Windsor Home Page
---

To contact us, email Thamesweb.


---