Click here to view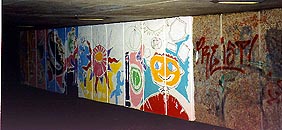 From depressing graffiti and concrete eyesore
to bright and cheerful Millennium Mural
Cindy Blackman and her colleagues, Clarissa Haley and Ellie Anderson, staff at the Oakbridge Centre in Imperial Road, plus all those who attend the centre, deserve the greatest praise for their efforts in brightening up the underpass beneath Goslar Way, the pedestrian and cycle path between York Avenue and Vansittart Road.
For several weeks in July and August 1999, work proceeded apace with technical advice and materials assistance from ICI in Slough and the Windsor and Maidenhead Borough Council.
From original drawings prepared by those attending the Oakbridge Centre, Clarissa Haley and Ellie Anderson, two very gifted staff members, planned the full size version with everyone pitching in when it came to painting at the underpass site. As Cindy Blackman says, "It was an important venture for us, and very rewarding. Everyone seemed to be involved, even those in wheel-chairs helped with the painting. We are truly delighted with the results and have received very many complimentary comments."
"The Mural seems to appeal to all age groups, from small children picking out their favourites as they walk past, to parents who appreciate the hard work and skill that went into the Mural's creation."
There are twenty four panels in the mural, some 500sq.ft. and the amount of work involved was substantial. Brightly coloured and amusingly illustrated, the Millennium Mural features the subject of 'Time' and the coming Millennium celebrations.
It was just too much to expect the Oakbridge group to paint the opposite side of the underpass too, so Windsor and Maidenhead Borough Council stumped up a good few thousand pounds to paint the panels on the other side in complimentary shades.
This work was undertaken by an enthusiastic company from Bracknell, C J Bargery, who, arriving at 9.00pm and working through to 1.00am over a number of days in August, painted the vast ceiling area and the wall, together with the entrance arch to the underpass.
It is to be hoped that the 'graffiti artists' will respect the effort that has gone into this project and that they will not spoil it! However, at some point in December 1999 someone attempted to burn a pile of travel leaflets in the subway resulting in minor smoke damage.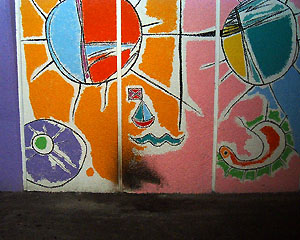 View the Mural in Detail! For a closer view of the 24 panels, please click the panel below.

See also Vansittart Recreation Ground Skate Park and Graffiti in the Borough
Back to Diary Home Page
Back to Windsor Home Page
---


To contact us, email Thamesweb.



---