The Totem Pole is carved in the authentic style of the Kwakiutl, a federation of many tribes, and clans inhabiting the northern part of Vancouver Island and the opposite coastal mainland. The figures on the pole reading from the top are, Man with large hat, Beaver, Old Man, Thunderbird, Sea Otter, The Raven, The Whale, Double headed Snake, Halibut Man and Cedar Man. Each figure represents the mythical ancestor of a clan.
The designer and principal carver of the pole, Chief Mungo Martin of the Kwakiutl was a most famous craftsman of this ancient art.
The pole was carved from a single log of Western Red Cedar and weighs 27,000 pounds. It was cut from a tree 600 years old from the forests of the Queen Charlotte Islands, 500 miles north of Vancouver.
It was erected by the 3rd Field Squadron of the 22nd Field Engineer Regiment Royal Engineers for their Colonel in Chief, Her Majesty Queen Elizabeth II in June 1958.
The Totem Pole also serves to symbolise the close association existing between British Columbia and the Corps of the Royal Engineers who, under Lt. Col. R C Moody RE, actively engaged in the development of the Colony in the years from 1858-1863.
The Totem Pole is signposted from the Wick Lane gate to the Park, or by foot from the parking area for the Valley Gardens.
On 1st June 2014 we were delighted to welcome Sam Haydahl and his wife to see the Totem Pole. Sam was the lumberjack who felled the original tree, and another just like it, from which an identical pair of Totem Poles was carved. One arrived here in the Great Park and the other remains in Vancouver.
Sam's visit to Windsor Great Park was the first time he had seen the Totem Pole since he felled it in 1957. Thanks are due to Nick Day and the Crown Estate team as well as other Windsorians who made this visit very special indeed.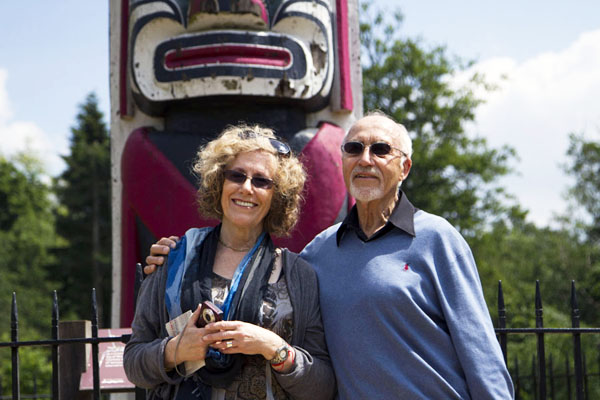 Josi and Sam Haydahl, 1 June 2014
Additional pictures of this event are included here:
Totem Pole Forum thread