By Rail
Reading is on the main line from Paddington (in London) to Bristol and the West Country, via Slough, using Brunel's original Great Western Railway.
Windsor to and from Reading via Slough
From Windsor Central Station a shuttle train will take you to Slough Station, platform 1. You will need to cross to platform 4, via the footbridge, for the Reading train, or sometimes platform 2. TV displays list the next trains, their platform numbers and arrival times.
Journey time Windsor - Slough. 5 - 6 minutes. Slough - Reading approx. 20-30 minutes subject to service/operator. Train runs over raised brick viaduct over the Thames with great views of Windsor Castle.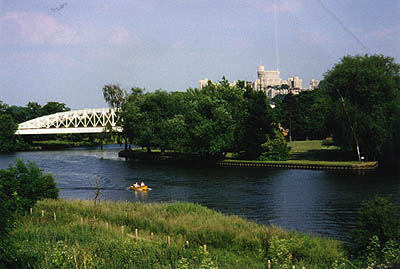 A view looking east with the Great Western Railway Bridge over the Thames at Windsor

From Slough to Reading is some 18 miles, and takes around 20-30 minutes. Trains often stop at smaller stations such as Burnham and Taplow, as well as Maidenhead and Twyford although some are non-stop. Watch out for the river crossing immediately after Taplow, you will be crossing the river over Brunel's magnificent brick arch bridge, also known as the Sounding Arch, and made famous in Turner's painting 'Rain, Steam, and Speed'. Standing under this arch and clapping or shouting, generates some wonderful echoes!
By Bus
Buses run from Windsor High Street to and from Friar Street, Reading. The company is Beeline. Click here for their timetable on the service which runs from Reading to Bracknell and Ascot to Windsor and on to Heathrow via Slough. The page doesn't mention Windsor but it goes past the Castle!
The buses normally leave Reading on the hour or thereabouts.

Great Western Trains Website
Reading Buses Travel Information
Back To Information Index
Back to Royal Windsor Home Page
---

To contact us, email Thamesweb.


---