Windsor to Paddington via Slough
One platform change to make at Slough
Paddington Station, London is a short walk north of Hyde Park. This link will show you precisely where
From Windsor Central Station a shuttle train will take you to Slough Station, platform 1. You will need to cross to platform 5, or sometimes platform 3, via the footbridge, for London trains.
Journey time Windsor - Slough. 5 - 6 minutes. No other stops. Train uses raised brick viaduct over the Thames with great views of Windsor Castle.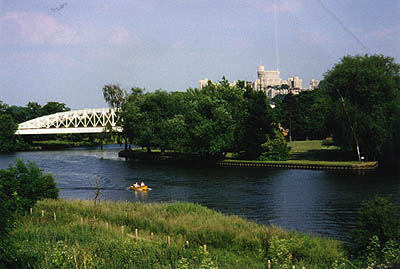 A view looking east with the Great Western Railway Bridge over the Thames at Windsor

From Slough to Paddington, London takes around 22 minutes, with perhaps 1 or two stops depending on the service selected.
Once at Paddington, admire the huge vaulted roof of the Great Western Railway Terminus, and follow the signs to the Underground, the buses, the taxis, etc.
Great Western Trains Website
Windsor to Waterloo
No station or platform changes to make
London's Waterloo Station is to the south of the river, adjacent to the London Eye, The South Bank Arts Centre and Festival Hall. This link will show you precisely where
From Windsor and Eton Riverside Station the train will take you straight to Waterloo, albeit rather more slowly than the Paddington service. However, Waterloo is more central than Paddington and this service may be more convenient for the City of London, and certainly is better for the South Bank complex, Royal Festival Hall and London Eye.
Journey time Windsor - Waterloo. 50 - 55 minutes. Several stops. Train passes mainly to the north of the river through Staines as far as Richmond, thereafter south via Clapham Junction, among others, to Waterloo, on the South Bank of the Thames in London.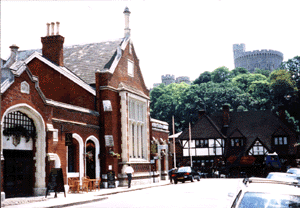 The Windsor and Eton Riverside Station