Kiting these days has become enormously popular for thousands of people, with clubs and festivals springing up all over the place to cater for this demand.
The above picture is from the Portsmouth 1999 Kite Festival. Excellent weather (although it looks dark in this photo for which I apologise!) with all varieties of kites made for an excellent day out for everyone. There are festivals on all over the country most weekends, as you're looking at this on the web just put "kite festivals" into your search engine and see what it comes up with ­ mine comes up with loads!
Kiting is however not a new phenomenon though. It has fascinated makers, and both fliers and spectators for over 2,400 years. By defying gravity the kite is a symbol of independence and freedom.
The Chinese first used kites for military, mystical and religious reasons, which later spread to East Asian countries. The kite in Asia has retained it's traditional role in play and sport, whilst the West has been using it for scientific experiments and even manned flight.
The sight of a kite flying high in a clear blue sky gives a feeling of freedom and ever since that first flat kite was invented in Europe in the 15th Century it has lost none of its popularity. Materials today make if possible to construct complex kites that weren't even dreamt of in previous years.
Kites are entwined (no pun intended!) in history because of the legends and theories handed down from each generation. The kite, as we know, originated in Asia. Balinese Hindus believed that kite flying was one of the favourite hobbies of their gods. Even today, no competition kite goes on its maiden flight in Bali without first being consecrated by a priest in an elaborate ceremony.
After its first appearance in China it spread right across the world, with the only exception being the Americas.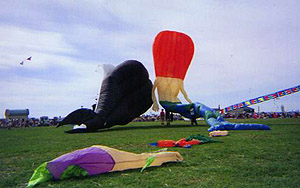 The inflatable kites (or softies as they are sometimes called) on the left just show how big these things can be. You can just see a tiny little man underneath the mermaid and the whale on the left of the picture is higher than the "Needle" in Portsmouth Harbour (if any of you know Portsmouth at all!).
They vary in shape from sea creates, Bart Simpson, Clowns, Legs and Bodies, butterflies and dragonflies, Snoopy in a biplane!
I saw 24 kites in the sky at one time this summer ­ a spectacular sight in itself, but even more so when you realise that the flyers had only met each other that morning and had no idea of any routines at the time. You'd imagine a tangle of strings that would take until Christmas to sort out, but no ­ everyone was really impressed and they got a very well deserved round of applause at the end of the display!
At the turn of the century American Samuel Franklin Cody (who lived in England whilst earning his living in a Wild West Show), carried out many experiments with kites (an original kite of Cody's is in Mullin Kites Workshop in Amersham (not too far away from Windsor and well worth a trip!)
Editor's Note: There is also an interesting link here with Imperial Services College, Windsor, with which Patrick Alexander had close connections. Alexander knew Cody well, recognising Cody's pioneering development in man carrying flight, providing an opportunity to show his kites to an important group of aeronauts at Bath in 1902, during a centenary celebration of Garnerin's 1802 Balloon Ascent.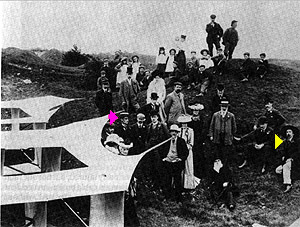 Cody, arrowed in yellow, far right, with Patrick Alexander, arrowed centre (magenta) with a group of spectators which included The Hon. CS Rolls
and Major Baden-Powell .
Reference: Patrick Y Alexander published by Cross Manufacturing Co. of Bath

Prices vary according to the type of kite you wish to buy, be it single line, dual line, stunt or power, flexifoil, or even a kids one from Woolies is fun! (Come on admit it, it's how most of us start off ­ that or make your own!).
As you will see from the photo of two of my kites below, this shows exactly how big these kites are ­ the building they are leaning against is about 8+ ft tall!!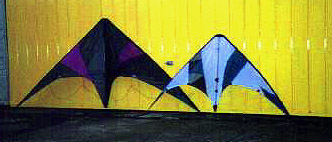 The smaller white one has an approximate wingspan of 4ft, the larger black one has a wingspan of about 8 ft. Quite a handful even on a light windy day!
If you fly your kite in Windsor Great Park, you should be aware that there is a designated area for kite flyers and one for model aircraft flyers. Although this was pointed out to me by a model aeroplane flyer who said he had no wish to be nasty, I got the distinct impression that there is some "friction" between kite flyers and the model aircraft flyers!
Who knows we may even one day see a Kite Festival in the Park.it could be the start of something big!!! (Fingers crossed here!).
So I hope this has inspired you and we will see you in Windsor Great Park flying anything from a single line to a multi line with a buggy attached!!
Or if you know of any other great places to fly your kite, then let us know, it's always good to vary the places you fly as different winds mean different kites to some of us! All as much fun as each other of course!
Happy Flying!
---

To contact us, email Thamesweb.



---