Plans for a New
Alma Road Car Park
are scrapped
No further threat to Sir Sydney Camm's home
December 2001 - Sir Sydney's home - Safe Now?
The Observer newspaper, in their edition dated 14th December 2001, (p.1.) have reported that The Royal Borough are planning to return the terraced homes in Alma Road and Arthur Road to residential use after being left empty for several years. The threat to demolish Camm's house along with adjacent properties now seems to have been scrapped along with plans for a large car park in the same area.
The Observer reports that the area will now be developed for housing and that a second deck is planned over the Alexandra Gardens Car Park to provide additional parking in that part of the town.
July 2001 - Park and Ride - Will it save Camm's House?
A report in The Observer dated Friday 13th July suggests that rush-hour jams between Windsor and Slough could eventually be history! Apparently Windsor Borough and Slough Borough councils have been discussing a Park and Ride Scheme at Junction 6 of the M4 motorway, with a "medium term plan to look at ways of re-arranging parking and access in the Alma Road and Windsor Riverside area, and this Park and Ride Scheme is for the longer term" said Cllr. Spooner lead cabinet member for Windsor parking.
Judging by the traffic in Windsor at 6.00pm last Thursday, when queues of stationery traffic stretched from the Relief Road to Home Park, in both directions, any 'medium term solution' of increasing parking in the town centre by around 500 spaces would be totally unacceptable. If permanently scrapping the proposed increase of 'in town' parking provision means the return of a dozen or so homes to residential use, and the Camm household saved into the bargain, Windsor residents would be well pleased.
May 2001 - Why are these homes still empty??
It is now over two years since Windsor and Maidenhead Borough Council shelved plans to demolish 10 homes at the junction of Alma Road and Arthur Road to make way for access to a new multi-storey car park on the site of the old gas works. This car park is thought to have been promised as part of the development of the Central Station as a shopping area and precinct.
One can only assume that the homes remain empty because the council are keeping the plan on the 'back burner', in the hope that an opportunity will eventually arise, permitting the redevelopment.
Let us state right now, therefore, that the plan will never be accepted by local residents because the congestion in Arthur Road is now so severe that tail-backs to the relief road and even the M4 are now commonplace. Any addition to the number of car parking spaces in the town centre will further exacerbate the situation to an intolerable level. RBWM accept this, as stated in The Town Plan, Page 6.11, para 6.6.18, "At present, most traffic entering Windsor does so via Arthur Road, Clarence Road or Alma Road from the Windsor and Eton Relief Road. In terms of environmental capacity, all these routes are reaching saturation. In order to relieve these roads and also the central area from long-stay traffic, an alternative to parking provision within the town needs to be considered."
If the spaces are required by local retailers for the benefit of customers, then let them release existing spaces used by their staff. We have already suggested (See November 2000, below) that they support an expanded Park and Ride scheme and encourage their staff to park away from the town centre.
In the meantime it is shameful that these houses are left empty. The Empty Homes Agency (EHA) will publish in mid-May a list of some 750,000 properties that are unnecessarily left empty throughout the country and it is likely that Windsor will feature prominently in this report with this and other examples of housing waste.
The Windsor and Eton Observer, in their edition dated May 11th, 2001, features this story in depth on their front page. It is to be hoped therefore that this matter can now be permanently resolved.
The Camm Plaque goes missing - again!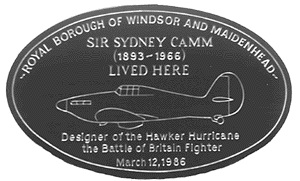 For the second time the above plaque, unveiled on Sir Sydney Camm's house in Alma Road in March 1986, has gone missing. Local residents assumed that Windsor and Maidenhead Borough Council had taken it into safe keeping after the original theft and subsequent recovery, but it seems that the plaque was insecurely refitted and so promptly stolen again. Naturally we hope that the plaque will be recovered once again.
Car Park News in November 2000
In their edition dated 24th November 2000, The Observer reported that a plan has been resurrected to demolish Sir Sydney Camm's birthplace (also that of his brother 'Practical' magazine Editor, Fred Camm) in order to provide access to a planned multi-storey Car Park. Local residents have long opposed these plans as congestion into Windsor on the adjacent approach roads, Maidenhead Road and Arthur Road, is already way past acceptable levels.
At many times of day, long queues build up that stretch as far back as the Relief Road. At the end of the day the situation is reversed with extensive stationary and slow moving traffic trying to leave the town. Increasing car parking in the town centre will only add to these existing problems.
Many of the parking places that already exist in Windsor are occupied by cars belonging to staff of local shops and offices. These valuable spaces could be released by more than the capacity of the proposed Car Park - some 500 spaces - by encouraging use of an expanded Park and Ride schemes. This point is expanded in the article 'Absolute Power...'
In March 1999, WMBC councillors agreed to withdraw the application for the Car Park. It seems, according to para 3.32 p. 45 of the Supporting Information, that WMBC were legally required to refer the application for a Car Park to GOSE (Government Office for the South East at Guildford) for consideration by the Secretary of State as it departs from the existing "Borough Plan". (also known as 'Development Plan', 'Local Plan' and 'Transport Plan'). See below for more about this Planning Meeting.
In March 2000, GOSE confirmed that the application to demolish the terraced houses had been withdrawn. The implication is that the houses are safe until such time as Windsor and Maidenhead Borough Council come up with a different scheme and file a new Planning Application.
Letters against the scheme have been published in the national press from time to time, including one from Germany, praising Camm's aircraft and stating that "...Luftwaffe pilots ... will rise in support of this cause". The letter in full
See below for typical letters from a local resident and a relative of Sir Sydney.