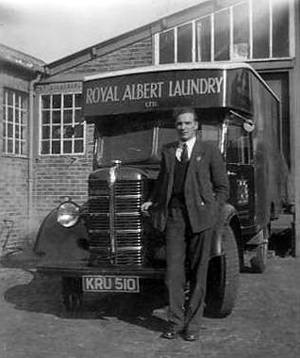 Joseph Bourne drove for the Royal Albert Laundry from 1951 to 1972.
My father's name was Joseph Bourne and he was born in 1925 in Burslem, Stoke on Trent. He joined the Grenadier Guards and was stationed in London and in Windsor, He met my mother Freda Madeline King (known as Pat to everyone) on 27th July 1943 and they married in 1947. My mother was born in 1 Albion Place, Goswell Hill, Windsor in 1924 and later moved to Arthur Road and then 20 Grove Road, where my grandfather Harry King operated a Coal, Coke and Wood Merchants and General Haulage business. He and his brothers, Arthur & George, ran King's Coals of Windsor. They had premises in Eton High Street next to the Cockpit Restaurant, a yard at 50 Thames Street and another at New Road, Ascot.

When Joe came out of the army he took a job as a long distance lorry driver, but with young children, my mother asked him to take a local job that did not involve nights away from home so in early 1951 he took a job as a van driver with the Royal Albert & Sun Ray Laundry in Victor Road. He worked there until 1972.
My father used to cycle in to work at 7.00am each morning and collect his van. He would then put two wooden benches in the back and drive around Dedworth and Windsor collecting the staff.
You would never be able to do that nowadays due to health & safety laws.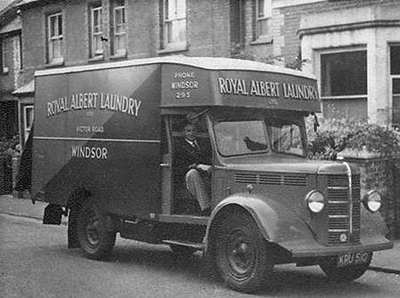 The Royal Albert Laundry vehicles were originally painted royal blue & red but later they were changed to a 'summer blue' all over.
I can remember as a boy going with my dad on one of his delivery rounds to London, delivering to customers such as Colonel Hoare of Buckingham Palace Mansions near Victoria who was looked after by his war-time batman. My father had to march into his home and stand to attention and salute. We also delivered to the owners of Cunnards Shipping who lived at Caroline House in Bayswater Road.
In 1972 my father left the Royal Albert Laundry and joined Total Fuels in Langley as a tanker driver. In May 1984 he was driving his fully laden tanker from the Langley depot down Langley High Street when he suffered a heart attack and died at the wheel.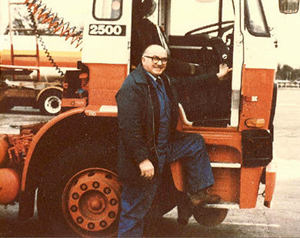 Joe Bourne when a tanker driver for Total Fuels

In 1967, when I left school, I spent two weeks working in the Laundry in the contracts dept. washing and ironing sheets for hotels and hospitals.
My aunt, Ivy Payne, lived in the castle as her husband Charles Payne worked as the Turnpike and coppersmith. Ivy was the manageress of the Dry Cleaning department of the Royal Albert Laundry.
Tom Watkins was the transport manager at the Royal Albert for many years, and stayed with the company when Sunlight took over the business. Tom sadly passed away some ten years ago,
I am interested in the history of Windsor as so much is being lost each year, I feel we need to retain the history these old established firms before they are forgotten forever so when I heard that the Sunlight Laundry was closing its doors for the last time on 3rd November 2006 I telephoned and asked if I could visit and take a few photographs before they demolished the buildings. It brought back many fond memories of the ladies and men who worked there.
Thanks to Chris Bourne for providing the story and pictures. More about the Royal Albert Laundry is under preparation, but we were pleased to be able to feature this story of a true Windsorian and the vehicles he used to drive around the town on a daily basis.