From The Windsor, Slough and Eton Express, September, 1930.
MR. ERNEST A. STICKLAND
Thirty-three years as Borough Engineer
His Career and Some Reminiscences
Mr. Ernest Albert Stickland, Borough Engineer and Surveyor of Windsor, retires from office on the 30th September, at the close of over 33 years' public service in the Royal Borough. Mr. Stickland, who is 69 years of age, is to be succeeded by Mr. F. Newberry McRae, aged 38 years, who comes from Watford, where he is at present Deputy Borough Engineer.
On Monday morning Mr. Stickland was at his desk in the Corporation Offices, at Alma Road, when an Express representative called to see him.
"I am retiring," he said, "on the 30th September, but though I am 69 years of age, I feel as fit as I did ten years ago. When I hand over to my successor, I am going to the other side of the Chiltern Hills, beyond Wycombe, where I shall be 600ft. above sea level, compared with 60ft. above the sea at Windsor."
Mr. Stickland is a native of Budleigh Salterton, Devon. He was educated at the Public Grammar School, at Newcastle-on-Tyne, and it was there that he commenced his career as a pupil of the late Mr. A. M. Fowler, who, at that time, was the City Engineer. After a period of service at Newcastle-upon-Tyne, Mr. Stickland went as an assistant at Stockport. By that time Mr. Fowler had retired from his public office as City Engineer at Newcastle-on-Tyne and had gone into private practice at Manchester. Stockport and Manchester being separated by a distance of only six miles it was only natural that tutor and former pupil should be in close touch with one another. So it came about that Mr. Stickland frequently met Mr. Fowler at Manchester and, by a curious coincidence, he assisted Mr. Fowler in his design for the present Barnes' Pool Bridge, at Eton. That was long before Mr. Stickland came to Windsor or knew that he would ever be likely to do so. When he left Stockport, Mr. Stickland was engaged on railway survey work for the London, Manchester, Sheffield and Lincolnshire Railways and later he carried out a drainage scheme at Blackburn. He afterwards gained further experience in the municipal city offices at York and then went to Reading for about the same length of time as an assistant. It was in 1889 that he was appointed Surveyor of Newbury.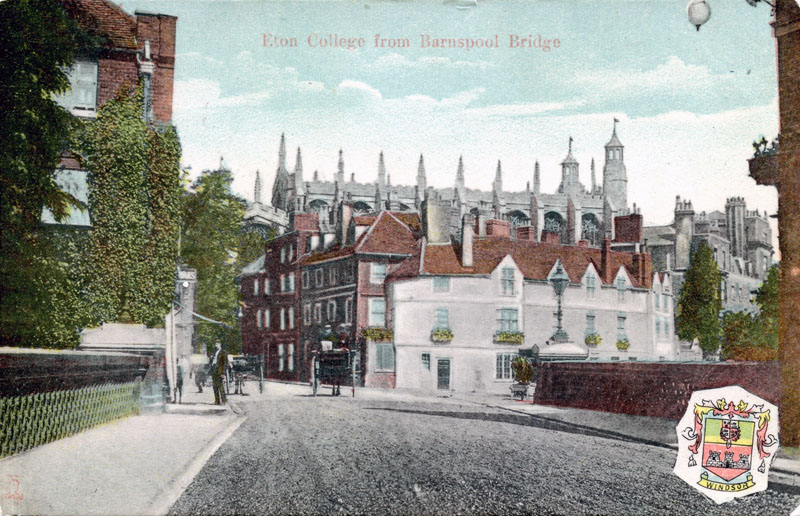 Barnes' Pool Bridge, Eton. Mr. Stickland assisted Mr. Fowler in its design.
"I came to Windsor in 1897," said Mr. Stickland, "and here I have remained ever since. During the years that have elapsed an enormous amount of work has been done. Even at Windsor I came again into contact with Mr. Fowler, who carried out the Clewer Drainage Scheme. Since I have been in the town the whole of the main roads have been reconstructed. There were cobble stones all up the sides of Thames Street and Peascod Street. They have been taken up and new paving and kerbing have been laid in the whole of the main streets of the Borough. Thousands of pounds have been spent on the roads, and the reconditioning of the Albert Road is a case in point. I can recall that the Windsor Corporation were one of the pioneers in dust-laying trials, and people came from far and wide to see the work that was done in those days. When I came to Windsor the Corporation Yard was at the back of Love Lane which is now covered by part of Victoria Barracks. The extension of the Barracks necessitated the erection of new offices and a depot in Alma Road. The Corporation also built the dust destructor, and it was my privilege to prepare the plans. The layout of the Alexandra Gardens and the riverside was work all carried out in the Surveyor's department. The much maligned Borough Police Station was built under my supervision from the competitive design of a Bristol architect. Other things have involved the Corporation Housing Scheme, which has been under my supervision and the making of the new Car Park on the site of the old River Street area. My design for the car park was accepted by the Corporation and also the design for the conveniences beside the entrance to the car park.
"The Car Park is still unique. So far no other town has anything like it and there should be an income of over £2000 from it in the present financial year. I see the day coming when the Car Park will have a roof over it and it will become one of Windsor's finest assets in eight, nine or ten years' time. People come from all over the country to see what we have done here in order to meet the exigencies of present-day motor traffic."
During the past 20 years Mr. Stickland has had control of the Windsor Waterworks and the Sewage Farm. He pointed out that the steam plant at the waterworks had been discarded and electricity had been installed. The same thing had occurred at the sewage farm, where a great many improvements had also been effected. There had been the construction of a large storm water bed, some five acres in extent, and tanks which were for many years out of action, had been brought into everyday use. These tanks sifted out all the silt, which settled in the tanks, and prevented it from being distributed upon the sewage beds, thus increasing their life and utility. The Corporation had bought 50 acres of additional land to provide for the eventuality of sewage beds becoming "sewage sick." Owing to the tanks having been brought into commission it had not so far been found necessary to utilize the 50 acres of ground which had been purchased, and thus a very material saving had been made in expenditure.
There are probably few appointments where a man is more open to public criticism than that of a town engineer or surveyor. The work that he does and the policy that he adopts come directly under the eye of the burgesses in every street and highway. His operations are not, for the most part, confined within the compass of four walls, to which the people have but little access. Mr. Stickland has not been without his critics, but the work he has carried out for the town will remain as a record of his ability, energy and devotion to his job. On the Corporation he has many friends who will regret the retirement of an official who has stood by his convictions, though others may have opposed his views on this or that question of policy. When Mr. Stickland leaves Windsor he will take with him the good wishes of the very many people who have been in close touch with his work during the passing of the years, who really understand the full merit of the work that he has been able to do.
---
From The Windsor, Slough and Eton Express, October, 1930.
PRESENTATION TO
MR. E. A. STICKLAND
A Cheque and an Illuminated Address
On Wednesday evening Mr. E. A. Stickland who retired from the appointment of Borough Engineer of Windsor at the end of September, was the recipient of an illuminated address and a cheque for £64.17s., handed to him by the Mayor (Lieut.-Colonel Stephen Wright) in the Council Chamber, at Windsor Guildhall. There were 59 subscribers to the testimonial. His Worship was supported by the Town Clerk (Mr. J. Hambridge), Alderman Sir William Carter (Deputy Mayor), Aldermen G. Mitchell, A. Harris and W. J. Duley, Councillors R. White, A. Wells, E. N. Bartlett, Mrs. Carteret Carey, and G. E. Short, Sir John Soundy, Mr. E. C. Durant (formerly Town Clerk of Windsor, Messrs. W. Dodds (Borough Accountant), J. A. Williams (Secretary to the Windsor Education Committee), Francis Arnold (Borough Sanitary Inspector), C. Frail, S. Hulls, R. C. Tennant, H. Spink, G. H. Williams, E. R. Foreman and H. Burfoot and Chief Constable Carter.
The Mayor said they had met to do honour to an old friend and to show their appreciation for the services he had rendered to the town. he (the Mayor) had only known Mr. Stickland for three years and he would ask others who had known Mr. Stickland for a longer time to address the meeting. This was not a Council presentation, but was from 59 subscribers. The total amount contributed was £70.8s.6d., and after deducting the cost of the framed address there was a balance of £64.17s. During the two years he had been Mayor he had always found Mr. Stickland a thorough, reliable and trustworthy official in anything and everything he had had to do. He had given a prompt attention to detail and his experience of Mr. Stickland had been that nothing had given him the smallest trouble. He extended to Mr. Stickland their goodwill and wished him long life (hear, hear). He asked him to accept the address and cheque as a memento or reminder of the valuable services he had given to the town of Windsor (applause).
The illuminated address, admirably executed by Mr. F. W. Barry, surmounted by the Borough arms read:
To Mr. Ernest Albert Stickland, A.M.I.C.E.

After thirty-three years of loyal service as Surveyor and Engineer to the Royal Borough of Windsor, the subscribers to your testimonial ask your acceptance of the accompanying cheque and desire to place on record not only their high appreciation of your valuable services, but their further recognition of your willingness at all times, and often under difficult circumstances, to assist in any work which might be for the well-being of the Borough.

It is sincerely hoped that both Mrs. Stickland and yourself may be spared for many years to enjoy your retirement and your new home.

Signed on behalf of the subscribers,

STEPHEN WRIGHT, Lieut.-Colonel,

Mayor.

Windsor, October 29th 1930.
Sir William Carter said he had known Mr. Stickland during the whole time he had been in Windsor, which covered a period of 33 years. He had always found him very trustworthy in every respect and a man who always went for what he thought to be right, whether what he suggested pleased or not. He had known both Mr. and Mrs. Stickland for years, and he hoped Mr. Stickland would live till he reached the age of 90. Their best wishes were extended to Mr. and Mrs. Stickland and their family (hear, hear).
Mr. E. C. Durant thought he could speak as well as anybody with regard to Mr. Stickland's work. Mr. Stickland and he were officials of the Corporation for somewhere about thirty years.During that time he found, as everyone else on the Council found, that in Mr. Stickland they had a splendid officer (hear, hear). It had always been an extraordinary thing to him that Mr. Stickland was able to get through all the work he had to do. At times when there were public enquiries and matters of that sort in hand, when plans and detailed accounts had to be produced at short notice, he only had to ask for them and they were always forthcoming. They all most deeply regretted that Mr. Stickland was leaving the town, but the time came when they had to make way for other people. He left the town with the very best wishes of everyone who knew him, and he desired to associate himself with the Mayor in wishing Mr. Stickland and his wife and family a happy time in their home in West Wycombe (applause).
Sir John Soundy remarked that although he had left the Council for something over 20 years, he was an active member when Mr. Stickland was appointed, and he could speak of the splendid work Mr. Stickland accomplished when he took office. Things were then not everything they could wish and Mr. Stickland worked very strenuously to pull things round. He congratulated the town on having had such splendid services from Mr. Stickland. He had been, in many respects, a model officer. He could never be bribed, would never accept a present, and the head of one firm, when speaking to him, said of Mr. Stickland: "He will never take anything. He will not even take a cigarette." He (Sir John) considered this to be a splendid testimonial in Mr. Stickland's favour and it had been of great advantage to the town. He had always admired the work of the Borough Engineer; he had always been a worker and never a shirker, and he very much regretted the time had come for him to leave them (applause).
Mr. Stickland said he found it very difficult to formulate words in which to thank the Mayor, first of all, for the kindly feeling he must have entertained towards him in initiating the testimonial. He also thanked the kind friends who had contributed to the testimonial. After 33 years in one town, one naturally had a great knowledge of it. When he came to Windsor there were 24 members on the Council, and today three of those members were still sitting. During his period of office he had seen more than 100 gentlemen come into the Council Chamber for the first time and make their bow to the Mayor. He was very pleased Sir John Soundy had spoken as he had done. Those of them who remembered Windsor 33 years ago must admit he did not want to take any extra credit that the town today was in a vastly superior condition and state than it was then (applause). He had carried out many improvements under the instructions of the Council; they were too numerous to mention, but he considered Windsor today could claim to be quite up-to-date. With regard to the cleanliness of the streets of the town, this cost money, but he felt that the first impression a person had on coming into a town was gained from the cleanliness of the streets and roads. He knew it cost money, but Windsor lived practically on its visitors. During the whole time he had been in Windsor he had received the greatest kindness and consideration and assistance from the various members of the Town Council while they had been in office. He thanked Mr. Durant for his kindly references, for he was a man who, if one could oblige him, one always went out of his way to do so (hear, hear). It was a great wrench to leave Windsor after having been so closely connected with it. He offered his thanks to the subscribers to the testimonial. The builders and traders of the town and he (the speaker) had always got on very well together, and if at any time there had been any structural or building work to be done, and any alterations had been necessary, the work had been carried out with quickness and there had never been any friction (hear, hear). Concerning the officials with whom he had worked, their relations had always been amicable and the greatest friendship had prevailed., In conclusion, he begged to thank all most sincerely for the handsome address and cheque presented to him (applause).
Sir John Soundy proposed a vote of thanks to the Mayor for presiding, and the proposition was carried with applause.
---
A book belonging to Mr E A Stickland
is returned to his family in 2006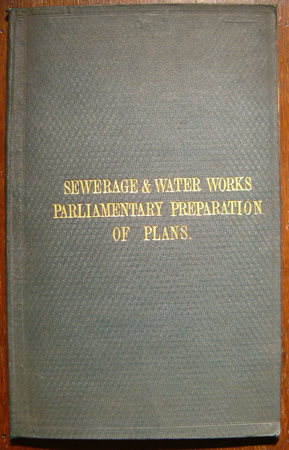 The above book, on the subject of Sewerage and Water Works and signed by Ernest Stickland on the inside cover, was found in Windsor in 2006 and returned to his grandson Peter Stickland. The book, in remarkably good condition, must have been brought to Windsor by Mr Stickland in 1897 and retained on the Borough Engineer's book shelves, initially at Alma Road depot and subsequently at Kipling Building. We are delighted to return it to Mr Stickland's family.
---
There is a forum thread where you would be welcome to post any information you may have about Mr Stickland. Mr Stickland Forum
Part of our 'Windsor People' series, an area to exchange information about past residents and well known characters. Click here for other Windsor People