Thames Side - early 1930s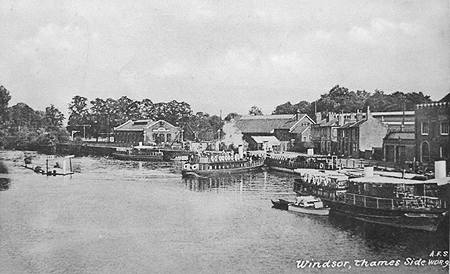 A view downstream from Windsor Bridge towards Thames Side with at least four steamers moored (real 'steam' steamers in those days) plus another either arriving. When negotiating Windsor Bridge, the steamers had to lower their funnels which almost always meant that the passengers on the upper deck, aft, got a few smuts on their clothes (if they were lucky) or in their eyes, (if they were unlucky!)
To the left is The Cobbler, a long thin strip of jetty adjoining Romney Island and removed in 1998. In the days of horse-drawn barges the horses would have to swim from the end of The Cobbler to Thames Side to continue hauling the barges upstream.
In the distance, centre left, is the engine house of the Southern Railway and The Donkey House pub to the right of the manoeuvring steamer.
Around this time, but not at the time this photograph was taken, a pathway was constructed from Thames Side along the bank of the lock cut, downstream towards Romney Lock. The path joined up with the road where it crossed the railway track by way of a level crossing, which was removed circa 1960s, and replaced by a footbridge. Vehicles were subsequently routed through the former goods yard to the left of the station rather than along Romney Lock Road and across the railway track.
This postcard by Frith is not printed to the highest standards possible in those days and some detail is almost impossible to make out, but it seems that the steamer nearest the camera, on the right, is the Empress of India.
Inevitably many of the buildings along Thames Side have been demolished and the sites redeveloped since WWII.
Here is another view of the same area from the early 1930s.
The quayside is very busy with perhaps nine steamers moored up at the same time. This is because Salters Steamers operated a scheduled service along the river in those days, in both directions, as well as pleasure trips up and down the river, so on a busy day in mid-summer, all the boats would have been working hard.