Windsor Then and Now
A Pictorial Series of Windsor Views from the past and present
Hogg's Stores, Oxford Road, 1930s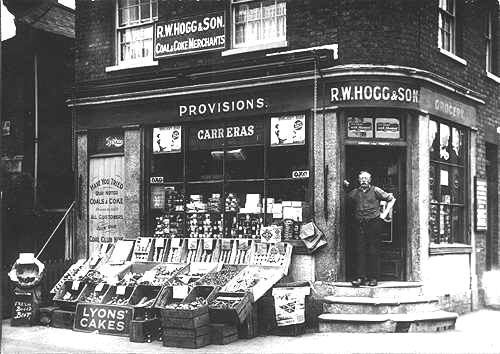 The general stores of R. W. Hogg and Son at the junction of Oxford Road and Alma Road in the 1930s.
The picture above was taken from a large format photograph kindly provided by Mr Phil Alderman whose mother's maiden name was Hogg. Mrs Alderman died at the great age of 96 on 16th August 2003.
The store is typical of the time offering tinned and fresh produce together with the famous names of the day, then and now, such as Typhoo Tea, Oxo, Heinz, Smith's Crisps and Lyons' Cakes, together with some less well known such as Scribona Tarts and Smith's Cornflakes.
A local resident at the time recalls using the shop on many occasions, "There was nothing they didn't sell! Fresh fruit and veg in season as well as tinned items, which were as popular in those days as frozen vegetables are today being quick and convenient to heat and serve. Much of the veg came from Lobjoit and Son of Langley and Burnham."
In the picture we can see a bushel of boiled beetroot 'Special today' [far left], potatoes, onions and marrows, fresh peas and beans on display, as well as apples, plums and bananas. The tinned items included pilchards, peas and peaches.
In the window to the left, Mr Hogg has a permanent sign painted on the glass that reads "Have you tried our noted Coals and Cokes? Prices to suit All Customers. Join our Coal Club now."
The Coal Club would have been a scheme to spread payments for fuel over the year, rather than having to pay in full in the winter months. Coal would have been required for the fires in most rooms of the house. Even in the 1950s houses were being built with fire grates in the bedrooms as well as the main living room. Coke would have been required for the boiler, normally in the kitchen, supplying hot water.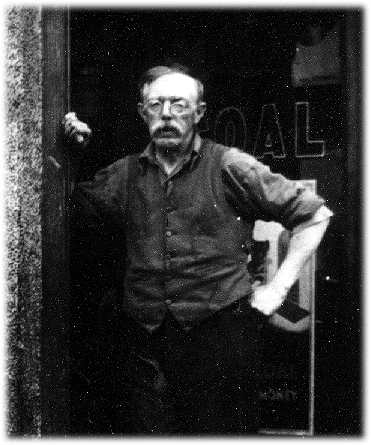 Mr Richard William Hogg himself standing in the doorway.
Mr Hogg's Coal Truck in the siding at the Great Western Railway Goods Yard, close to Alexandra Gardens
The Hogg Order Office at the Central Station
We are grateful to Malcolm Robbins who is related to the Hogg family and who sent to us the above pictures. These pictures and the area around the Goods Yard and Goswell Road are also discussed on the Royal Windsor Forum here. The Goswells, The Gasworks and Nearby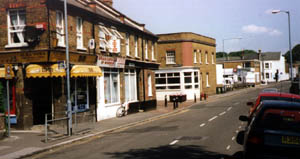 A view of Alma Road in 1999 with the former Hogg's Stores at the junction with Oxford Road, now converted to offices and the doorway closed off and made into a window,
---

To contact us, email Thamesweb.


---