St Andrews Church, Clewer, photographed in 1906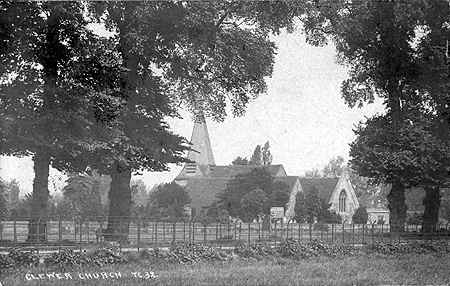 St Andrews Church photographed in 1906, by T E Cochrane, photographer and publisher, who lived in 27 Queens Road, Windsor. His reference number was TC32. The original of this postcard is rather faded but we have enhanced the image for the purposes of this page.
It is intriguing to note that this church dates from Norman times and it is widely believed that William the Conqueror would have visited Clewer Church to worship.
Other views of this area are to be found here where we include stills from the film Carry on Cabby in which several scenes were filmed in Stovell Road, in the foreground of this view, in 1963. The original Stovell Road now lies almost directly beneath the Windsor to Slough Relief Road.
For a full history of St Andrews Church, Clewer see St Andrews Clewer Website. Please let us know here if this link no longer works.
T E Cochrane also published cards from another address at 28, St Leonards Avenue