Before Ward Royal
There are a number of images showing the area before Ward Royal was built in our article about Norman Wisdom's film, 'On the Beat' and also in our article about Carry on Cabby, both of which featured scenes filmed in this area.
Here we include some earlier images dating probably from the 1930s and used by the Windsor Labour Party in their 1945 election pamphlet 'Your Windsor'. The decrepit state of the houses in the area served the political party well in their claim that Windsor needed a Labour win to solve the housing problems.
Here are two of the pictures that they used, plus an image from Carry on Cabby to illustrate the area more clearly.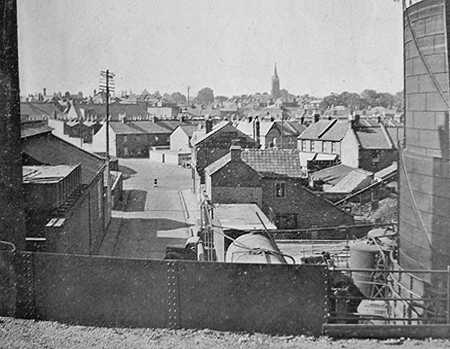 Goswell Road with the gas works to the right and ancillary gas works buildings to the left. This picture dates from the late 1930s. It seems that the roundabout opposite the Noah's Ark pub, centre, at the end of Arthur Road (to the right) was yet to be constructed when this picture was taken. The land to left and right was later cleared to be used as car parks.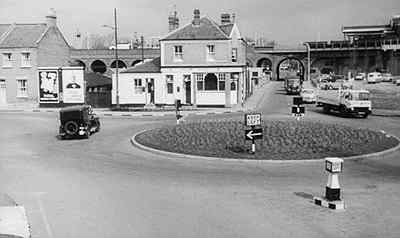 This view, from the opposite direction, shows the cleared ground to the right from the film Carry on Cabby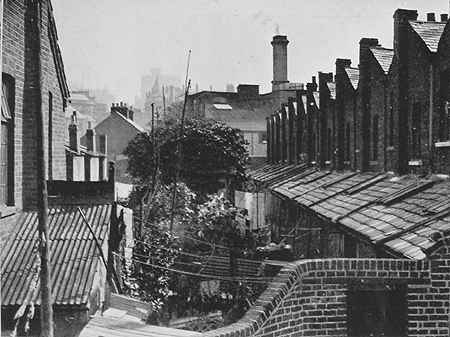 A view from the first floor of a house in Grosvenor Place looking towards the chimney of the laundry and the castle beyond. To the left are the backs of the houses in Denmark Street and to the right the back s of the houses in Edward Square.
More images are scheduled to be added to this story.
---

To contact us, email Thamesweb.


---