The Royal Borough is unique in this country in as much as a civilian organisation regularly fires cannons! Since 1754 there have been records of salutes in the Royal Borough of Windsor to mark significant events. The cannon used by the Borough nowadays could have been part of the miniature man-of-war that used to sail on Virginia Water in the early 19th century, 'The Victorine'. See Windsor Great Park - Virginia Water
The cannon are small, just one foot long, one and a quarter inch bore and about 12 pounds in weight. They are fired at 30 second intervals ever since a retired Admiral pointed out that a one minute interval was for funerals!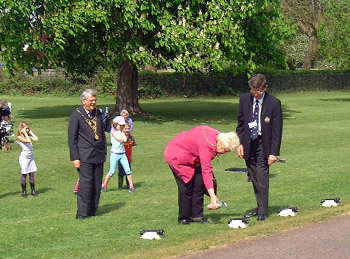 Children cover their ears as the canon is fired, April 2002
For many years the cannon were fired with a Bengal match held in a bulldog clip secured to the end of a broom handle until some years ago, during the ceremony for Prince Charles' Freedom of The Borough, the clip bent and so the Bombardier, Ted Lobley, in order to keep the salute progressing briskly, decided to use hand-held matches. The Duke of Edinburgh, watching from the dais, remarked to Ian Keeler, deputy Mayor, "That looks bloody dangerous!"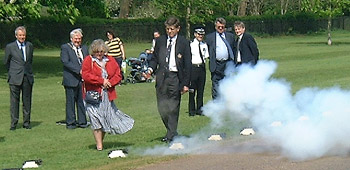 Clouds of smoke and a big bang! (2002)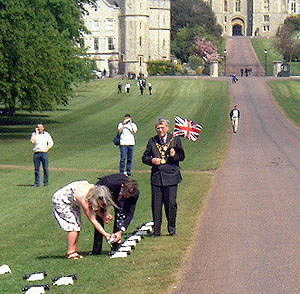 2002 and Mayor Tryon sports a Union flag as cannon 15 is fired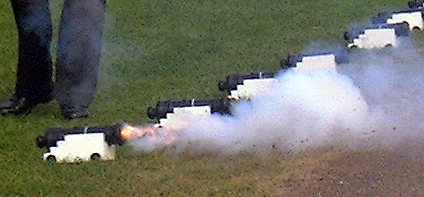 Realistic flame!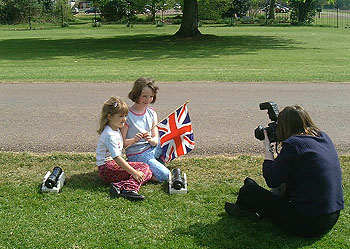 Children selected to fire the first cannon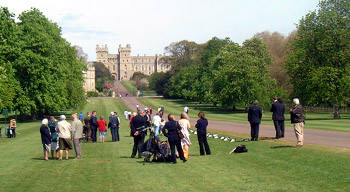 It now became clear that the touch holes required attention and so they were taken for repair by REME (The Corps of the Royal Electrical and Mechanical Engineers). The touch holes were remade so that a modern fuse could be used. They were then 'proofed' at Woolwich.
On one occasion the firing had to be suspended while the Royal Family drove past on their way back from Royal Lodge, and on another occasion it was noticed that a group were horse-riding beyond the Long Walk. The group turned out to be The Duke of Edinburgh, Prince Edward and a groom.
Come and see, may be even help fire, the cannon at next year's anniversary of Queen Elizabeth's birthday on April 21st at midday opposite the entrance to Frogmore in The Long Walk.
---

To contact us, email Thamesweb.



---