7. "THE WITCH OF BRENTFORD"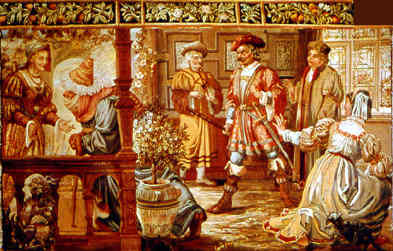 The fourth in a series of eight tapestry panels "The Merry Wives of Windsor", which, with No.1 "Queen Victoria", made a total of nine, gold medal winning, exhibits at The Paris Exhibition of 1878.
Date: 1877
Artist: T. W. Hay
Subject: Act IV, scene II, a room in Ford's house, as the love-sick Sir John Falstaff escapes for a second time under the nose of Mistress Ford's blind but doubting spouse, this time disguised as Mistress Ford's maid's aunt, the wise fat woman from Brentford, who Ford cannot abide. On the left, Mistress Ford, a striking figure, bids farewell to the disguised Falstaff, who exits bent over a stout stick, swathed in the maid's aunt's voluminous blue gown, on his head the "thrum'd hat", and wrapped in linen, with a red muffler . . . Sir Hugh Evans, the Welsh Parson, looks peturbed in the background, as Ford glares at the figure of Falstaff, calling it the Witch of Brentford. He strides forward, gripping his cudgel, preparing to beat her for disregarding his forbidding her his house.
Behind the splendidly clothed figure of Ford, Page (?) raises a restraining hand. (It cannot be Dr. Caius, who is bearded, but may be Robert Shallow, a country justice, as in Act IH, scene III, when Mistress Page, on cue, frightens Falstaff into entering the basket of soiled linen destined for the muddy ditch at Datchet, by exclaiming to Mistress Ford "Your husband's coming hither,
woman, with all the officers in Windsor...") Mistress Page kneels laughing before her husband. The room is not unlike that in "Ye Merrie Wives" (No 4), but appears to be the work of another weaver; the central objects differ, an orange tree now flowers in its pot, which is decorated differently. Certainly the features of Mistress Ford, her husband and the four other figures are stronger and better depicted here. The background consists of an arched passage then (left to right) a climbing rose, carved panelling with a brown dado, and leaded lights outside of which are more roses, and inside an embroidered blue and gold curtain. Mistress Ford and Falstaff have a low balustrade in front of them which is attached to the carved post. A free-standing gryphon-like carving is in front (left), and a black cat watches from the shelter of Mistress Page's skirts.
Cartoon: Not known
Size: 5 ft. high by 8 ft. 7 in. long. No border attached, sides have selvedges teased out to form a fringe.
Warps: 16, part 15 per inch
Colours: Mistress Ford is splendid in a red and gold striped gown, embroidered brocade bodice and overskirt, the underskirt is buff. Her cap is blue, edged gold and lined red. She has fair hair, with white muslin trailing from her cuffs, delicate pretty features, and a ring on her right hand. Falstaff's gown is blue, and edged with red brown fur. It is red at the bottom and lined light brown, his pointed hat is red and bound with buff strips, surrounded with white frills which trail, a red muffler around his neck, above which his beard shows, and below his skirt can be seen his large top boots. Sir Hugh Evans with an expression of "No violence please" has a brown hat on his white hair, and a light brown garb trimmed dark brown, brown lower sleeves and grey stockings. The dominant figure is Ford, who is resplendent in an embroidered brocade tunic of red with grey trim, a white shirt and cuffs, blue stockings which show through the fashionable slits in his top boots. His sword hilt is mounted with gold, as is the sheath. He brandishes a heavy cudgel of dark wood, and has a fine large red hat on his brown hair which is streaked with grey. Mistress Page has a cap of two shades of blue with a pink front on her dark brown hair, which is tied in front by a blue ribbon. Her light blue gown has the bottom trimmed with a red ribbon with a light brown motif. Her ring is on her left hand. The gryphon appears to be of bronze with blue tones. The orange tree has white flowers and its pot is decorated in blue motifs.
Border: None remains, but the original descriptions of the tapestry state "a continuous border of fruit and flowers along the top and bottom of each tapestry (some also have this down the sides), with the title panel in the centre of the lower border, 'The Witch of Brentford' ".
Marks: T. W. Hay (bottom left, on foot of balustrade); to the left and just above is the Windsor mark of a stylised crown above _l l_ Windsor Tapestry 1877 No. 5. H. Henry, M. Brignolas, in deep reddish purple.
Sale prices: Not known
Exhibited: Windsor Guildhall, December 1878
Ownership: Commissioned by Gillow & Co., of Oxford Street, London. Bought complete with the entire decor of the Prince of Wales' dining room in the British Pavilion at the Paris Exhibition 1878 by Sir Albert Sassoon for the dining room of his mansion at 25 Kensington Gore.
References: Furniture Gazette, 26 January and 7 September, 1878
WE, 9 November and 7 December, 1878
Art Journal, 1879, p.64
WT
Addendum: It was thought that apart from the tapestry portrait of Queen Victoria none of this series had survived, but seven of the missing eight were collected by Messrs. Christies (Christie, Manson & Woods Ltd., St. James's, London) in preparation for auction later in the autumn of 1978. This only became known in September 1978 when the text of this volume had already gone to press.
Previously little information and only shadowy vague outlines could be gleaned from the above accounts and from rare engravings showing the Prince of Wales's dining room at the Paris Exhibition of 1878, and the Exhibition at the Town Hall, Windsor, in December 1878.
Introduction to The Royal Windsor Tapestry Works

Index to the Tapestries

The Royal Windsor History Zone

The Royal Windsor Home Page
---

To contact us, email Thamesweb.



---