2. PRINCE LEOPOLD'S ARMS (The Duke of Albany's Arms)
Date: 1877
Artist: Lewis F. Day
Subject: The arms of Prince Leopold "with a label of three points, the centre charged with a St. George's Cross, each of the other two with a heart gules". The label is also borne by each of the Supporters, a lion rampant, crowned, gold, and a unicorn, silver/grey with a golden chain, mane and horn. The arms are encircled by the Garter with gold lettering, on a blue ground, surmounted by a lion passant guardant above a royal crown, all in gold. Above the arms on a
blue ground is "Windsor Tapestry 7th April 1877" entwined with verdures. Below is the motto "Constanter et Fideliter".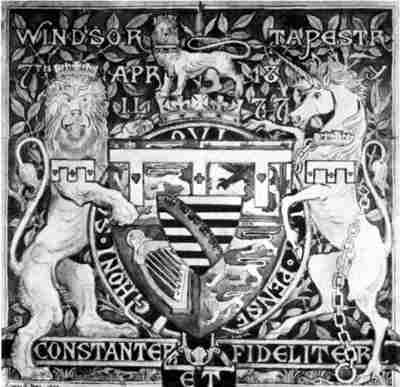 Prince Leopold's Arms
Prince Leopold (1853-1884) was the youngest son of Queen Victoria. He obtained the Queen's permission to commence the Windsor Tapestry Manufactory in 1876, and was the President from that time until his death on 28 March, 1884. The panel was presented to him on his 25th birthday, 7 April 1877, being the first panel made at Old Windsor. (Brignolas). Unfortunately it does not appear to survive.
Cartoon: In the Victoria and Albert Museum, Prints Drawings and Paintings section catalogue no. E.1034-1925. It was presented by A. T. Barber Esq., Mayor of the Royal Borough of New Windsor in 1899.
Size: 1 ft. 8 in. by 1 ft. 8 in.
Warps: Not known
Colours: Blue background, gold letters and appropriate portions of the Royal Arms, with red/silver and blue in heraldic order.
Border: Apparently there was a plain frame along the selvedges.
Marks: The cartoon is signed Lewis F. Day. 1877 (bottom left edge)
Sale prices: None known
Exhibited: Windsor Guildhall, December 1878 (tapestry); May 1977 (cartoon)
Ownership: Presumably Prince Leopold, and his widow, Princess Helen, Duchess of Albany.

References:
WE, 7, 14, December, 1878
VAMC., E. 1034-1125
Brignolas.
WT
Introduction to The Royal Windsor Tapestry Works

Index to the Tapestries

The Royal Windsor History Zone

The Royal Windsor Home Page
---

To contact us, email Thamesweb.



---