The Funeral of King George VI
15th February 1952
Includes Order of Service
See also
George VI died on 6th February 1952 at Sandringham and was buried at St George's Chapel, Windsor Castle, on 15th February 1952, following a State Funeral in the Chapel. His daughter, HRH The Princess Elizabeth, had been proclaimed Queen Elizabeth II on 8th February 1952.
The Proclamation at Windsor
George VI's coffin was brought to Windsor by steam train hauled by the engine 'Windsor Castle' seen here at Paddington Station in London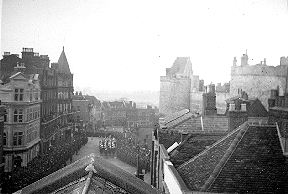 The Funeral Procession route, on a grey February day,
looking west from the roof of The Guildhall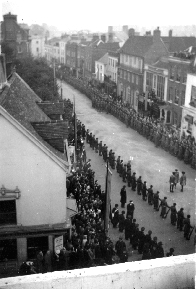 The Funeral Procession route,
looking east from the roof of The Guildhall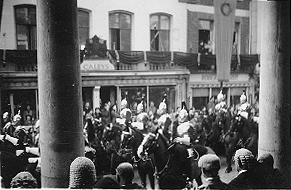 The Royal Horse Guards, 'The Escort', pass the Guildhall, preceding the king's coffin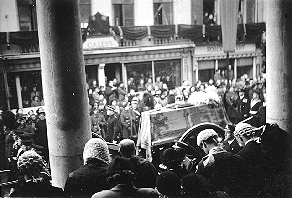 The Cortege passes The Guildhall as The Mayor and Aldermen of the Borough bow their heads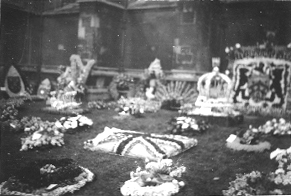 Floral Tributes beside St. George's Chapel

The Order of Service for George VI

The opening page of the Order of Service for George VI
THE ORDER OF SERVICE
for the Burial of His Majesty
King George VI
The Archbishops of Canterbury and York and the Bishop of Winchester, accompanied by the Dean and Canons of Windsor, the Moderator of the Church of Scotland and the Moderator of the Free Church Federal Council shall meet the Funeral Procession at the entrance of the Chapel of St George. Then shall be sung:

I AM the resurrection and the life, saith the Lord: he that believeth in me, though he were dead, yet shall he live: and whosoever liveth and believeth in me shall never die.

St John xi. 25, 26

I KNOW that my Redeemer liveth, and that he shall stand at the latter day upon the earth. And though after my skin worms destroy this body, yet in my flesh shall I see God: whom I shall see for myself, and mine eyes shall behold, and not another.

Job xix. 25, 26, 27


WE brought nothing into this world, and it is certain we can carry nothing out. The Lord gave, and the Lord hath taken away; blessed be the Name of the Lord.

I Tim. vi. 7. Job i. 21
After they are come into the Choir, shall be sung the Psalm following:
Dominus regit me. Psalm xxiii
THE Lord is my shepherd: therefore can I lack nothing.
He shall feed me in a green pasture: and lead me forth beside the waters of comfort.
He shall convert my soul: and bring me forth in the paths of righteousness, for his name's sake.
Yea, though I walk through the valley of the shadow of death, I will fear no evil: for thou art with me; thy rod and thy staff comfort me.
Thou shalt prepare a table before me against them that trouble me: thou hast anointed my head with oil, and my cup shall be full.
But thy loving-kindness and mercy shall follow me all the days of my life: and I will dwell in the house of the Lord for ever.
Then the Lesson taken from the twenty-first Chapter
of the Revelation of St John the Divine shall
be read by the Bishop of Winchester.
Rev. xxi

I SAW a new heaven and a new earth: for the first heaven and the first earth were passed away; and there was no more sea. And I John saw the holy city, new Jerusalem, coming down from God out of heaven, prepared as a bride adorned for her husband. And I heard a great voice out of heaven saying, Behold, the tabernacle of God is with men, and he will dwell with them) and they shall be his people, and God himself shall be with them, and be their God. And God shall wipe away all tears from their eyes; and there shall be no more death, neither sorrow, nor crying, neither shall there be any more pain: for the former things are passed away. And he that sat upon the throne said, Behold, I make all things new. And he said unto me, Write: for these words are true and faithful. And he said unto me, It is done. I am Alpha and Omega, the beginning and the end. I will give unto him that is athirst of the fountain of the water of life freely. He that overcometh shall inherit all things; and I will be his God, and he shall be my son.
Hymn
ALLELUIA ! Alleluia! Alleluia!
The strife is o'er, the battle done;
Now is the Victor's triumph won;
O let the song of praise be sung.
Alleluia!

Death's mightiest powers have done their worst,
And Jesus hath His foes dispersed;
Let shouts of -praise and joy outburst.
Alleluia!

On the third morn He rose again
Glorious in majesty to reign;
O let us swell the joyful strain.
Alleluia!

Lord, by the stripes which wounded Thee
From death's dread sting Thy servants free,
hat we may live, and sing to Thee
Alleluia!

While the coffin is made ready to be laid info the grave, the Archbishop of Canterbury shall say,

MAN that is born of a woman hath but a short time to live, and is full of misery. He cometh up, and is cut down, like a flower; he fleeth as it were a shadow, and never continueth in one stay.
In the midst of life we are in death: of whom may we seek for succour, but of thee, O Lord, who for our sins art justly displeased?
Yet, O Lord God most holy, O Lord most mighty,
O holy and most merciful Saviour, deliver us not into the bitter pains of eternal death.
Thou knowest, Lord, the secrets of our hearts; shut not thy merciful ears to our prayer; but spare us, Lord most holy, O God most mighty, O holy and merciful Saviour, thou most worthy Judge eternal, suffer us not, at our last hour, for any pains of death, to fall from thee.

Then, while the earth shall be cast upon the Body, the
Archbishop shall say,

FOR AS MUCH as it hath pleased Almighty God of his great mercy to take unto himself the soul of our dear brother here departed, we therefore commit his body to the ground; earth to earth, ashes to ashes, dust to dust; in sure and certain hope of the Resurrection to eternal life through our Lord Jesus Christ; who shall change our vile body that it may be like unto his glorious body, according to the mighty working, whereby he is able to subdue all things to himself.
Then shall be sung,
I HEARD a voice from heaven, saying unto me, Write, From henceforth blessed are the dead which die in the Lord: even so saith the Spirit; for they rest from their labours.

Lord, have mercy upon us.

Christ, have mercy upon us.

Lord, have mercy upon us.

OUR Father, which art in heaven, Hallowed be thy Name. Thy kingdom come. Thy will be done, in earth as it is in heaven. Give us this day our daily bread. And forgive us our trespasses, As we forgive them that trespass against us. And lead us not into temptation; But deliver us from evil. Amen.
Then the Archbishop of York shall say the
Prayers following:
ALMIGHTY God, with whom do live the spirits of them that depart hence in the Lord, and with whom the souls of the faithful, after they are delivered from the burden of the flesh, are in joy and felicity; We give thee hearty thanks, for that it hath pleased thee to deliver this our brother out of the miseries of this sinful world; beseeching thee that it may please thee, of thy gracious goodness, shortly to accomplish the number of thine elect, and to hasten thy kingdom; that we, with all those that are departed in the true faith of thy holy Name, may have our perfect consummation and bliss, both in body and soul, in thy eternal and everlasting glory; through Jesus Christ our Lord. Amen.

O MERCIFUL God, the Father of our Lord Jesus Christ, who is the resurrection and the life; in whom whosoever believeth shall live, though he die; and whosoever liveth, and believeth in him, shall not die eternally; who also hath taught us, by his holy Apostle Saint Paul, not to be sorry, as men without hope, for them that sleep in him; We meekly beseech thee, O Father, to raise us from the death of sin unto the life of righteousness; that, when we shall depart this life, we may rest in him, as our hope is this our brother doth; and that, at the general resurrection in the last day, we may be found acceptable in thy sight; and receive that blessing, which thy well-beloved Son shall then pronounce to all that love and fear thee, saying, Come, ye blessed children of my Father, receive the kingdom prepared for you from the beginning of the world: Grant this, we beseech thee, O merciful Father, through Jesus Christ, our Mediator and Redeemer. Amen.
Then the Dean of Windsor shall say the
Prayers following:
O FATHER of all, we pray to thee for those whom we love, but see no longer. Grant them thy peace; let light perpetual shine upon them; and in thy loving wisdom and almighty power work in them the good purpose of thy perfect will; through Jesus Christ our Lord. Amen.

ALMIGHTY God, Father of all mercies and giver of all comfort; Deal graciously, we pray thee, with those who mourn, that casting every care on thee, they may know the consolation of thy love; through Jesus Christ our Lord. Amen.

O HEAVENLY Father, who in thy Son Jesus Christ hast given us a true faith and a sure hope; Help us, we pray thee, to live as those who believe and trust in the Communion of Saints, the forgiveness of sins, and the resurrection to life everlasting, and strengthen this faith and hope in us all the days of our life: through the love of thy Son, Jesus Christ our Saviour. Amen.

THE grace of our Lord Jesus Christ, and the love of God, and the fellowship of the Holy Ghost, be with us all evermore. Amen.
Then Garter Principal King of Arms shall proclaim
the Styles of His late Majesty
GOD be in my head,
And in my understanding;

God be in mine eyes,
And in my looking;

God be in my mouth,
And in my speaking

God be in my heart,
And in my thinking;

God be at mine end,
And at my departing.
Then shall the Archbishop of Canterbury
pronounce the Benediction
All shall remain in their places until The Queen and the Royal Family, the Choir and the Clergy have left the Chapel




---
Postscript
The funeral of George VI's daughter HRH The Princess Margaret Rose took place 50 years later, to the day. The funeral of George VI's Queen Consort HM Queen Elizabeth The Queen Mother took place 50 years and two months later, on April 9th 2002. Following a Royal Funeral at Westminster Abbey, the coffin of The Queen Mother was brought to St George's Chapel and laid to rest beside the coffin of King George VI. Princess Margaret's ashes were also interred in the royal vault.
See also
---
The Royal Windsor Web Site will report all events such as these and provide a permanent record together with references to the background of such events wherever possible.
Any information or additional material about Windsor is always welcomed and acknowledged. Copies of photographs or texts can be emailed to the Editor, The Royal Windsor Web Site
---




To contact us, email Thamesweb.


---