The History of Oakley Court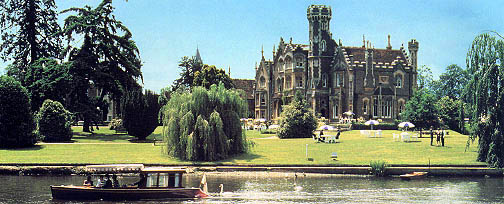 Oakley Court is situated along a stretch of the Thames known as Water Oakley. It was first shown on maps around 1800 and the name appears to originate from Cornish Breton in which it appears as "Warhta Eog Lee" - The Upper Salmon Place.
The Court was originally built in 1859 for Sir Richard Hall-Say and legend has it that he built it in the style of a French Chateau to comfort his homesick young French wife. Leslie Ward (the artist 'SPY' of Vanity Fair) recounts in his autobiography 'Forty Years of SPY, p. 30) that from Eton, I frequently had leave to visit some friends of my parents, the Evans, of Boveney Court, a delightful old coutry house opposite Surly Hall. Miss Evans married a Mr. Hall-Say who built Oakley Court, and I was present when he laid the foundation stone. Leslie Ward would have been around nine years old at the time. His recollection suggests that the story that Sir Richard built Oakley Court for his home-sick French wife may be ill-founded.
Oakley Court was sold to Lord Otho Fitzgerald according to some records in 1880 but Leslie Ward recalls attending a dance there in 1875 given by Lord and Lady Otho where he was to meet The Prince Imperial of France. In 1870 The Prince Imperial had to flee from France with the Imperial Family and they settled in Chislehurst, Kent. During the 1870s there was some talk of a marriage between him and Queen Victoria's youngest daughter, Princess Beatrice. It can be seen therefore that at one point Oakley Court was a meeting place for the highest of high-society!
Oakley Court was subsequently sold to a John Lewis Phipps and in 1908 to Sir William Avery of Avery Scales. In 1919, Mr Ernest Olivier purchased the property together with 60 acres of Berkshire woodland for the sum of £27,000. He was a very eccentric character who frequently entertained foreign diplomats and as a courteous gesture flew the flag of the nation they represented on the original flagpole which still stands today. It is believed that the Court was used during the last war as the English Headquarters for the French Resistance and President De Gaulle is reputed to have stayed in one of the Mansion bedrooms
In 1955, Bray Studios moved to Down Place, just next door to Oakley Court. After Mr Olivier's death in 1965 the Court lay uninhabited. For the next 14 years it became an ideal setting for many of the films made by Southern Pictures. During this period, some 200 films were made in and around the property, most notable. were the St. Trinians series. The Rocky Horror Show, Half a Sixpence starring Tommy Steele, Murder by Death starring Peter Sellers and perhaps most famous of all were the Hammer Horror productions, notably Dracula. When the Dracula films were made at Oakley Court directors obtained an eerie effect by using candles to light the entire Court.
In 1979 conversion into a hotel began. Wherever possible, the furniture and plaster were restored and this is particularly noticeable in the Drawing Room and Library. Two extensions were built onto the Mansion, the Riverside and Garden Wings. Today these house 85 hotel bedrooms, although there are 8 suites in the Mansion itself.
On 7th November 1981, after 2 years of renovation and the sum of £5 million spent on the property, Oakley Court opened its doors as a hotel. In June 1997, a third wing was added known as "The Courtyard Wing" with an additional 21 air conditioned bedrooms and finally, a Health and Fitness Club consisting of a Swimming Pool, Spa Pool, Sauna, Steam Room, Solarium, Gym, Beauty Treatment Room plus 2 Tennis Courts. Now, with its former splendour and beautiful setting of 30 acres of landscaped gardens on the banks of the Thames, Oakley Court ranks as of one of the outstanding hotels of this country.
---
The Royal Windsor Web Site by


To contact us, email Thamesweb.


---