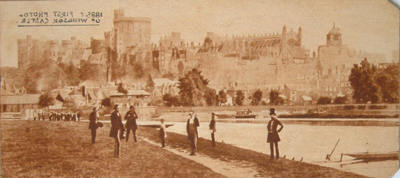 The original picture before being prepared for this page. Note the handwritten caption, top left, reproduced below.

Detail of the reversed caption.
This way round the mirror image would have read correctly when projected. It is strange that the picture itself was not reversed so it is possible that it was projected and viewed the wrong way round. The date, if it is a date and not a reference number, is at least 22 years later than the actual photograph and could be around 30 years later.

Here we have reversed the image to 'right reading'
A second very early view of Windsor...
and this time its stereo!
In May 2007 we purchased a stereo view of Windsor taken from The Brocas in a similar position from the above, but a little nearer Windsor Bridge and at the point at which rowing boats were hired out. You can see that the image has faded but we are confident it dates from the 1860s. It is a shame that the Curfew Tower was not included in the view as it is quite possible that it would have been the earlier roofline thereby dating the picture as 1863 or before. The picture has a small label on the reverse which reads 'Stereoscopic slide of Windosr Castle. Photographed and published by W. F. Taylor, Windsor.'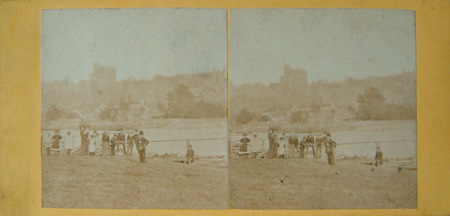 The earliest stereoview we have yet located of Windsor from the Brocas.
With a little adjustment by computer we have been able to enhance the image, see below.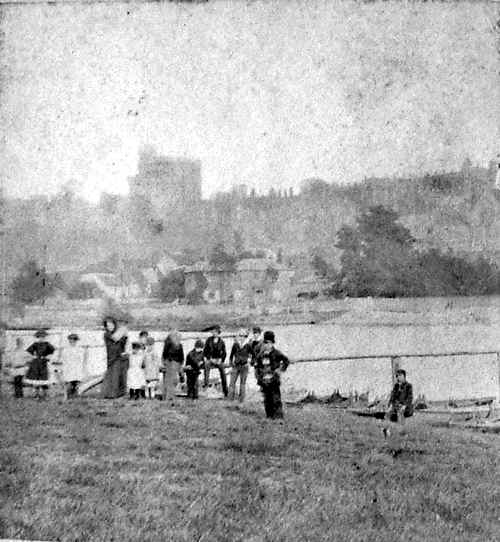 One indicator as to its age is the speed of the shutter. The earliest photographic processes were very slow so everyone had to keep very still. This would have been a problem with children and animals and you can see above that the child farthest left is fuzzy as is the face of the boy standing roughly in the centre. By comparison the boy sitting on the boat and the other boy standing nearest him, have tried very hard to keep still and are comparatively clear.
It is interesting to note that the business of boat hire was already established on The Brocas perhaps by the 1860s or before and certainly by the 1870s.
It is still not easy to make out the detail on the far bank, but we shall see if we can have the two images of the stereo further enhanced and see what detail can be made out then.
See also
---


To contact us, email Thamesweb.



---