Histories Home Page
Royal Windsor Home Page
Histories of Windsor
The Construction of Charles Street
See also the RWWS Forum thread
Charles Street had been a market area on Saturdays and a car park at other times during the week throughout the 1950s and 1960s until the construction of Ward Royal in 1969 and subsequently King Edward Court in 1979.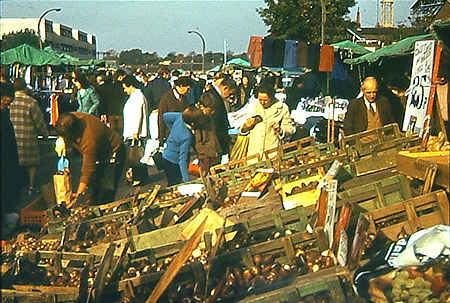 A busy Charles Street Market in 1973. Note Ward Royal top left of the picture
In late Victorian times, this area had just been a narrow pathway, known as Clarence Clump. With the redevelopment of this area and the pedestrianisation of Lower Peascod Street in 1988, and Upper Peascod Street in 1992, Charles Street became a busy road around the south west of the town centre. The following pictures were taken around 1979-1980. If anyone has a more precise date, please let us know here. Email the Editor
Oxford Road used to run from east of Charles Street out to the west but Ward Royal was built on top of it. All that remains is a very short section to the left of the picture below and a further section to the west of Ward Royal. It should be noted therefore that there is an Oxford Road in Windsor, and an Oxford Road east. Very confusing. There are pictures of Oxford Road before Ward Royal was constructed here.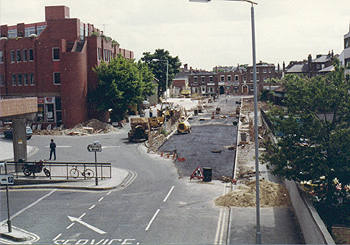 The construction of Charles Street from the pedestrian walkway
Oxford Road East runs alongside the red brick building to the left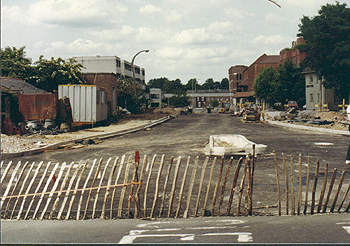 The construction of Charles Street looking north from Clarence Road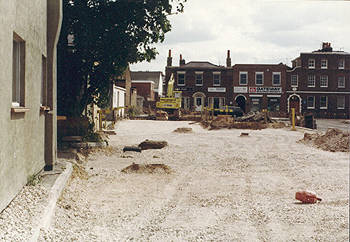 The construction of Charles Street looking south towards Clarence Road
We are grateful to Ashley Booth for permission to include these photographs
See also the RWWS Forum thread
Histories Home Page
Royal Windsor Home Page
---

To contact us, email Thamesweb.



---