The new blue and white colour scheme for Windsor Town Bridge following the 2002 repairs and repainting
Improvement plans
Windsor Bridge was closed to road traffic in April 1970 as cracks had developed in the supporting cast iron girders. The Windsor Observer reported in their edition dated Friday August 10th 2001 that plans for its improvement have been proposed. As the bridge is a listed building, Grade II, consent was required before the work could commence.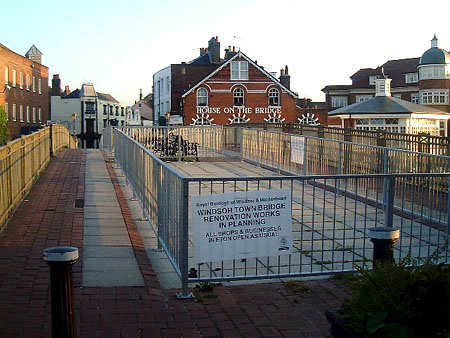 Barriers restrict pedestrian access to the sides of Windsor Bridge as doubts
were raised about the strength of the central areas. [June 2001]
For the past few years pedestrian access has been restricted by unsightly barriers on Windsor Bridge over the river to Eton because engineers were concerned about the strength of the bridge which was built in 1823.
Structural repairs were put in place plus parapet strengthening and an extra handrail. In addition, the roadway was newly paved in York stone with extra lighting installed, both on the bridge and from each side, to floodlight the bridge at night.
Funding for the project was been applied for from the Heritage Lottery Fund as the costs were expected to be in the region of £400,000 but the application was not approved. Windsor and Maidenhead Borough Council therefore elected to pay for the restoration themselves.
The restoration is now completed in time for the Queen's Jubilee celebrations in June 2002 when the Queen will visit the bridge and unveil a plaque commemorating the refurbishment on June 3rd at 12.00.
Lighting Failure
One major disappointment following the refurbishment of the bridge is the appalling and totally inappropriate use of lighting. This is installed low down beneath the handrails and point inwards onto the walkway. The effect is that 22 lights on each side dazzle everyone trying to view the river from the bridge at night because these lights are directed straight into the eyes of anyone looking upstream or downstream. The lighting also destroys any clear views of the castle from this point. Surely a grave mistake. It is also another example of the growing 'light pollution' on our planet caused by carelessly positioned lighting. Light that is allowed to shine upwards further reduces the opportunities to enjoy the beauty of a star-filled sky.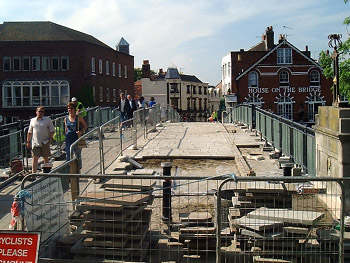 Renovation in progress, May 2002
More Information and pictures

The History of Windsor Bridge

The Downstream Bridges at Datchet

Histories Home Page

Royal Windsor Home Page
---

To contact us, email Thamesweb.


---