We publish here a selection of photographs taken early in the morning of 11th June 2001, between 5.00-6.00am, of the rehearsal for the State Visit of Thabo Mbeki, President of South Africa.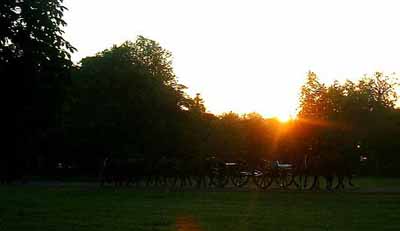 The Kings Troop Royal Horse Artillery making their way up to Windsor and the Home Park along the Long Walk just as the sun rises.
The rehearsal started at around 3.30 in the morning with the sanding of the entire route from the Home Park to The Cambridge Gate at the end of The Long Walk. Sand was also spread over Castle Hill. During the rehearsal the troops were not dressed in their full ceremonial uniforms although in most other respects this was a full scale rehearsal for the real event the next day.
Police manned every junction between Combermere Barracks, to the south of Windsor, and throughout the town centre, in readiness for the troops rehearsal of the State Visit the next day.
As the sun rose on a glorious clear morning, the Kings Troop Royal Horse Artillery left the barracks and made their way towards the town centre via the Long Walk. As they approached Cambridge Gate, they turned left into Park Street where a contingent of naval ratings were already lining the route.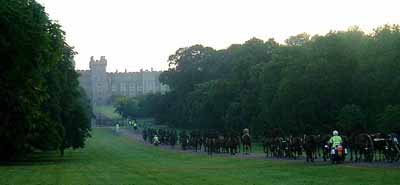 The Kings Troop approach the castle with their police motorcycle escorts
With the many banners in the colours of South Africa and in the colours of the Union flag, lining the route, the scene was really very special.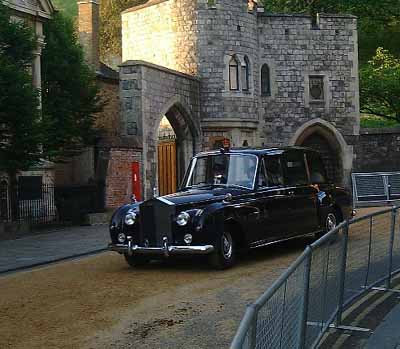 The Queen's Rolls Royce makes its way to The Home Park in the course
of the rehearsals in the early hours of Monday 11th June 2001
Further along the route, in Thames Street, the Sovereign's Escort made their way to the Home Park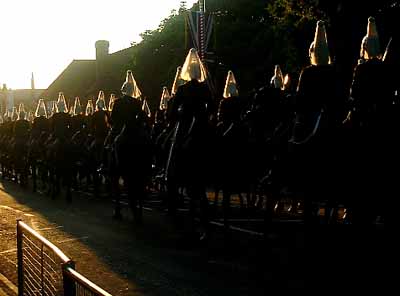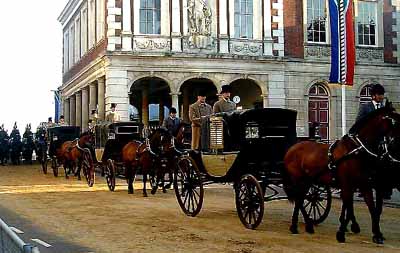 The State Landaus passing the Guildhall during the rehearsal
Some seven open carriages were used during the procession itself, although the carriages were closed for the rehearsal.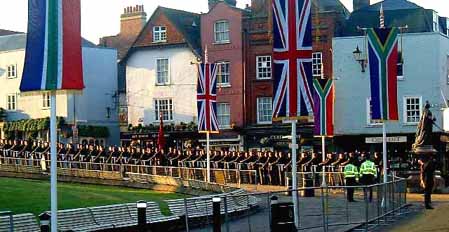 The 1st Battalion Scots Guards march up Castle Hill
The 1st Battalion Scots Guards marched up Castle Hill to The Quadrangle in the Upper Ward where they were to provide a Guard of Honour as The President of South Africa arrived with the Queen, following the procession through the streets of Windsor.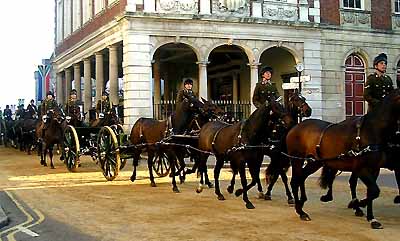 The King's Troop Royal Horse Artillery
Naturally an event such as this can cause some disruption to the centre of the town and during the rehearsal which took place in the early hours of Monday 11th June, the roads were closed from 03.30 to 9.00am.
The Royal Windsor Web Site will report all such events and provide a permanent record together with references to the background of such events where possible.
A Profile of Thabo Mbeki
South Africa Information Web Site
---





To contact us, email Thamesweb.


---