Military Ceremony In Windsor
Laying up of The Colours
1st Battalion Coldstream Guards
Wednesday 11th April 2001, 11.00am

The Band and Troops march to Holy Trinity Church along Clarence Road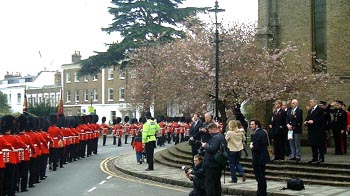 Arriving at Holy Trinity Church
The Colours are of great significance to each and every soldier. They represent the central rallying point in battle in the event that they are separated from their colleagues and so command the utmost respect from the troops.
On this occasion, the 1st Battalion of the Coldstream Guards are leaving Victoria Barracks, Windsor, for a posting in Northern Ireland and so they 'laid up' their colours at The Holy Trinity Garrison Church in the course of a commemorative service. It is an honour for the Battalion to be permitted to march through the town with "Swords drawn, drums beating, bands playing, Colours flying and bayonets fixed,"
The Coldstream Guards will be replaced by the 1st Guards Battalion Grenadier Guards.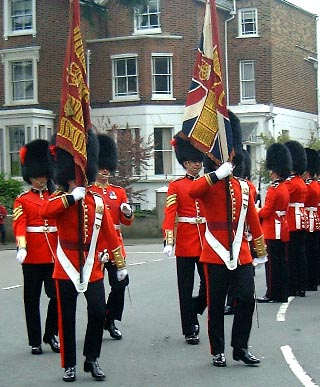 The Colours are marched into Trinity Church 'at the double'
The Ceremonial March through the Streets of Windsor was delayed by almost 20 minutes as police and two low loader crews removed cars parked too close to the route of the procession as a security precaution. Apparently this will be rather costly to the owners.

See also
---

To contact us, email Thamesweb.


---