The George V Memorial in 2000 surrounded by mature trees.
The Memorial to King George V at the junction of Thames Street and Datchet Road was provided by public subscription. The work is from a design by Sir Edwin Lutyens, R.A., and was unveiled by King George VI on 23rd April I937.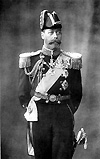 King George V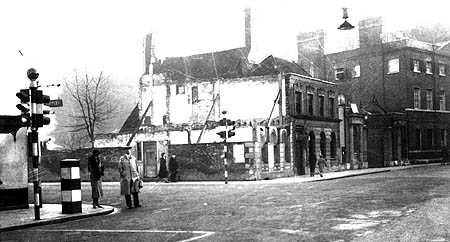 The area before The George V Memorial was built on the site of the former Windsor brewery buildings. "Noakes & Co. Ltd., Brewers" in cast iron formed the archway, middle right.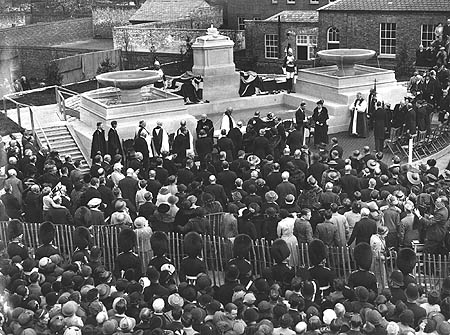 King George VI and Queen Mary in attendance as the Union Flag falls from the memorial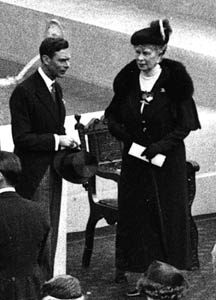 King George VI and Queen Mary
(Detail from above photo)
It is said that this speech made by George VI was his first in public since his accession five months earlier.
"If I may speak for a moment of him in whose honour this memorial has been erected, let me only say that to me, personally, the memory of my father will always bring the inspiration of a high example.

"I hope that in trying to fulfil our great responsibilities the Queen and I may be supported by some measure of that trust and affection which were so fully given to him and to my dear mother by the people of this country and of the Empire."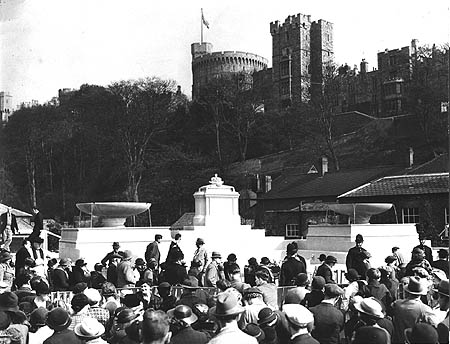 After the unveiling, visitors gather to take a closer look at the memorial
as water flows from the left and right cascades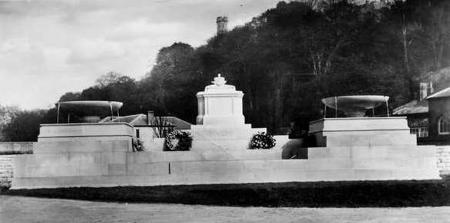 An early view of the George V memorial
See also
The George V Jubilee Medal, 1935
The Life and Times of Queen Elizabeth, the Queen Mother
Back to
Histories Home Page
Royal Windsor Home Page
---

To contact us, email Thamesweb.



---