Autumn 2003
Government Paper Published
Protecting our historic environment:
making the system work better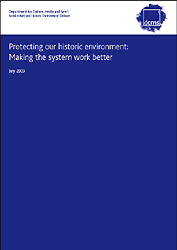 Published by
The Department for Culture, Media and Sport
Architecture and Historic Environment Division
The above publication covers in considerable detail the requirements for the protection of buildings from all eras. Those interested in what steps the government are taking to ensure appropriate legislation is in place are invited to take a look at this publication and to comment where appropriate by 31st October 2003.
Responses should be sent to he.consult@culture.gsi.gov.uk or to Eve Trueman at 2-4 Cockspur Street, London SW1Y 5DH.

Local Matters Index
Royal Windsor Web Site Home Page
---

To contact us, email Thamesweb.



---