August 2003
Green Lane Scout Hut Land
Twelve flats given go ahead
14th August 2003, Updated January 2005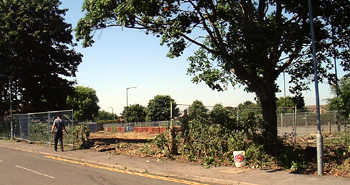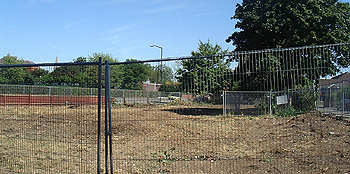 On July 17th the borough gave provisional permission for the demolition of the existing Scout Hut and the erection of two 2-storey buildings comprising ten 2-bed flats and two 1-bed flats in addition to a new Scout Hut and associated car parking. The permission was granted subject to a legal provision from the developers to make a financial contribution towards the improvement of Public Open Space in the Borough. As POS cannot be included in the existing scheme - there is just no space available - the planning permissions require a contribution towards improvements elsewhere.
There are of course several problems with this scheme, the first being that in theory the land can be cleared and left as a fenced off muddy mess for a number of months until agreement is reached with the Borough on the financial sum to be paid.
Another problem is that the 12 additional dwellings are to be constructed in an area already deficient in Public Open Space, as provided for in Appendix 1 of the Town Plan "Public Open Space Existing and Required (HA) (1991 Survey) which reports that this area enjoys 67.90 ha of POS, whereas the required amount is 117.80 ha, a shortfall of 49.90 ha. This ratio has been further adversely affected following recent developments nearby, such as in Clarence Road (W), the redevelopment of the Trevelyan School site and developments such as at York Avenue/Springfield Road. The net result is a constantly depleted ratio of POS to residential units and population.
We earnestly hope that the Borough will stop permitting further development in Windsor which is already substantially over-developed. The prospect looms of every mature property with more than a postage stamp of land to be torn down and three or even four storey flats erected in their place. If this trend is allowed, Windsor will degenerate into an architectural desert.
Furthermore, in 2004, following completion of these flats, parking at the eastern end of Green Lane is now a joke. Often cars are parked on the double yellow lines and are so close to the corner that drivers are forced onto the wrong side of the road and into the path of oncoming vehicles around a blind corner. A dangerous situation indeed, and all of the councils making by permitting this overdevelopment in an inappropriate location.
With a significant number of employees at Intercontinental Hotels (the former Rank Hovis office block) choosing not to drive all the way to the office car park, preferring the short walk through the underpass, and other employees in Windsor being forced out of town following increased parking charges and the police current refusal to enforce double yellow parking regulations - even when dangerous parking is involved, we see no improvement in the future. On the contrary.

Planning Application Details
| | | | |
| --- | --- | --- | --- |
| Application No: | Application by: | Location of Property | Description |
| 02/82639/FULL | Airways Enterprises | Scout Hut Green Lane Windsor Berkshire SL4 3SA | Demolition of existing Scout Hut and erection of two 2-storey buildings comprising ten 2-bed flats and two 1-bed flats and a new one and a half storey Scout Hut with associated car parking (amended 11th February 2003) |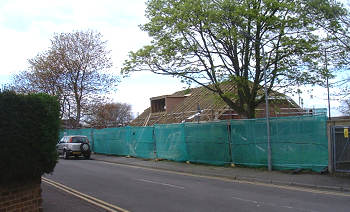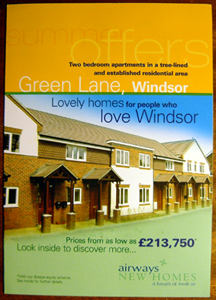 Local Matters Index
Royal Windsor Web Site Home Page
---

To contact us, email Thamesweb.



---