The Wolf at Dedworth
(Latterly The Maypole)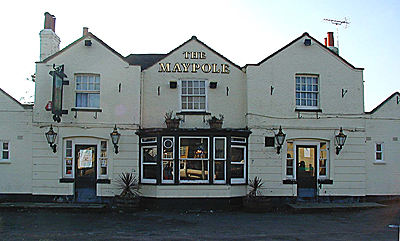 The Maypole pub in Dedworth Road, known to the locals as The Wolf, was demolished by Nicholas King Homes in early 2003. They illegally worked on Saturday afternoon and Sunday.
There had been a pub on the site for at least 240 years. It had always been known as The Wolf apart from in the last ten years when it was known first as The Dedworth Arms and then The Maypole. It had been the identity of the village of Dedworth.
Since then the developer has put in six applications to build flats on the site. The first two applications were for 34 flats in a four-storey building which would have meant a huge and unsightly block in the middle of Dedworth, higher than the Church across the road and dwarfing the bungalows already on the site.
The council failed to come to a decision on this in the allotted time and so the developers have appealed to the Deputy Prime Minister. His office has arranged a public enquiry on 3rd and 4th February at the Maidenhead Room, Guildhall, Windsor, from 10 am. Please turn up to support the villagers.
The council later produced a document with nine reasons why they would have refused the application. The council is to be congratulated on this, but it has not deterred the developers.
Subsequent applications were put in for 31 and 26 flats. These would still produce a horrendous monstrosity which would dominate the skyline of Dedworth and would be out of keeping with the area. The site should not be used for more than about a dozen flats and on two floors only.
But it was not a site where there was housing before. It was there for leisure use. It was not just a pub. It was a meeting place, a restaurant, and the Church held its Summer Fair there. The Motorcycle Action Group met there. So why should there be flats there at all?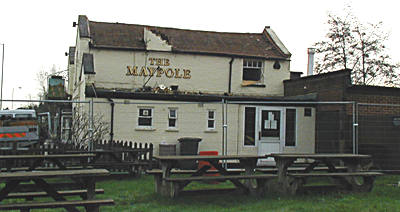 Demolition begins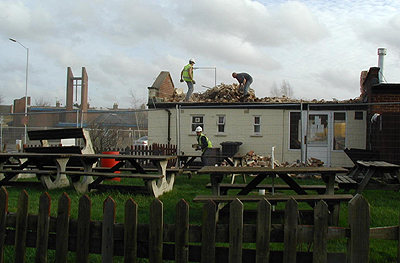 Demolition continues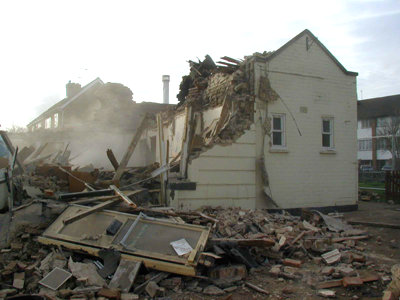 The demolition is completed
Our thanks are due to PM for preparing this article and supplying the photographs.
There is also a Windsor Pubs Forum where additional information may be available and where your memories of The Wolf in years gone by would be welcome

Update 6th March 2004
The inspector turned down the appeal and the developers were not allowed to build 34 flats. However, they appealed on their other application for 31 flats and there was a public enquiry at the Guildhall in June 2004 and the flats were eventually completed in 2005.
Royal Windsor Forum Home Page
---

To contact us, email Thamesweb.



---