November 2003
Local Anger at Loss of Local Listed Building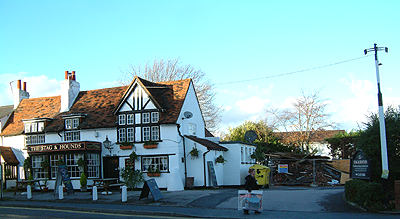 The Stag and Hounds with the collapsed barn beyond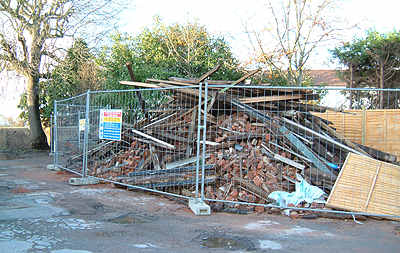 All that remains of the collapsed barn
A row has blown up over the reported collapse of the barn to the rear of the Stag and Hounds Public House in St Leonards Road. The barn dates back several hundred years and, as part of the Grade II listed Stag and Hounds, was also listed. As such both the owners and the local authority had a duty of care towards it.
Now all we have is a pile of rubble. Many will demand that the barn be rebuilt, others will claim that the site should be redeveloped.
Roger Sutton, Windsor & Eton Society (Heritage & Environment Secretary), writes:
"You will be sorry to hear that the Grade II listed barn behind The Stag and Hounds in St Leonard's Road is now a pile of rubble.

"Not only is this a tragedy which should not have been allowed, but it is a clear demonstration of the amount of effort that the Royal Borough is prepared to invest in Windsor's heritage.

"We need to find out who carries the can - is this a technical recommendation to demolish from the Conservation Officer or a political decision? It must not happen again. The Society made it crystal clear on two occasions in writing that it should not be allowed to happen. "
Susy Shearer writes:
"Thank you for passing on this sad news indeed.

"I am staggered by the insensitivity, lack of insight and foresight, and sheer ignorance demonstrated by this latest blow to our heritage.

"It is a devastating reminder of the vulnerable status of 94% of the listed buildings in the UK which fall into the Grade ll / ll* category --- these include examples in Windsor such as Clewer Manor, the Convent and The Chapel, Recognition House and Edgeworth House, to start the long list.

"When will we really feel ourselves to be on course to preserving monuments of our local social, architectural and cultural history in a consistent manner and with any sense of hope for the longer term?"
Local councillor, Mary Rose Gliksten writes:
"I have been given an explanation of what has apparently happened here.

"As you know, an application to demolish was lodged some months ago but the issue had never come to committee. Building control became involved in order to ascertain the condition of the building and - I am told - found it dangerous.

"Some of the dangerous elements were stripped back to ascertain whether the rest of the building was saveable but the building shifted and the whole structure was judged to be dangerous leading to its "collapse."

"The point was made to me that lorries delivering to the pub may have hit the building exacerbating any structural decay already there. The recent very dry, followed by very wet weather were cited to me as possible accelerating factors.

"I believe that a report will come to the planning committee and I cannot, of course, pre-judge how that report will be received.

"The loss of any historic building is desperately sad but we will have to ask questions of Building Control and determine exactly what they found there before we can reach judgement."

Roger Sutton has replied:
"I'm afraid that I do not believe a word of it. We had discussions back in August and it appears that there was considerable pressure to agree to demolish. The Society wrote twice to reinforce our view that it should be retained even if there were apparent structural problems - the building was not very large, after all.

"I would think that our view is that this situation should be taken very seriously and that it should be rebuilt - the old beams and bricks are still on site; otherwise it is giving in to commercial pressures - The Borough has the powers and should use them.

"I will, of course, refer this situation to the Heritage sub-committee for their considered view."
Roger Sutton has also commented:
"This is a blatant example of 'listed buildings falling over' to please developers. All parties should be pilloried accordingly. Otherwise what is the point of conferring listed status?"


It's up to the residents - REPRISE
We urge all residents to lobby their local councillors and MPs to express their concern at this destruction of their neighbourhood. The sad truth is that ill-considered planning approvals or unenforced preservation orders and Listed Building status can lead to legalised property vandalism and line the pockets of property developers.
Only in years to come, when later communities come to mourn the loss of significant local buildings, will the true loss be realised. Attractive residential areas and neighbourhoods take years to mature, yet can be wrecked in days.
Local Matters Index
Royal Windsor Web Site Home Page
---

To contact us, email Thamesweb.



---