What are 'The Colours'?
Trooping The Colour
Presentation of The Colour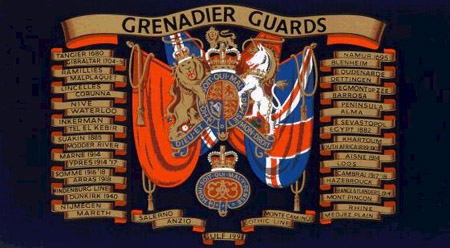 A Grenadier Colour featuring the names of past battles

The Colours carry upon them all the battle honours of the Regiment and as such have major significance for each and every soldier in that Regiment.
In days of old they were hung outside the Battalion or Regimental headquarters after a good day's battle! This identified their headquarters. Companies also have colours so in the fog of war, if a soldier was lost, they knew where the rest of his Regiment was, and also where the Company was to report to!
The Regimental Colour really is the embodiment of a Regiment so they are not only a locating symbol, though hardly used for this purpose in these days, but also record the proud and costly history of each Regiment. As such they are guarded and escorted with unbelievable zest.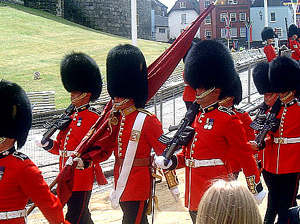 The Colours in Procession during The State Visit of Thabo Mbeki, President of South Africa, June 2001
In Jubilee Year, 2002, on Friday, 26th April, The Queen presented The Scots Guards with New Colours at Windsor Castle. During such presentation ceremonies, two Colours can be presented. The Queen's Colours, which is only carried by the Regiment when the Queen is in residence or on parade, and the Battalion or Regimental Colour.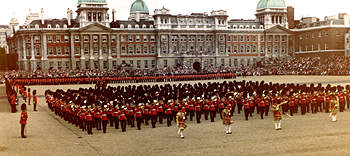 The Massed Bands on Horse Guards Parade during Trooping The Colour
Every year in June Her Majesty Queen Elizabeth II is present on Horse Guards Parade in London for 'Trooping the Colour', a Review based upon the ceremony used for Guard mounting in the 18th Century. The first such event took place in the reign of George III. The Colours are 'Trooped' through the ranks during the Queen's Birthday Parade so that all new guardsmen can identify them and acknowledge what standards they have to live up to!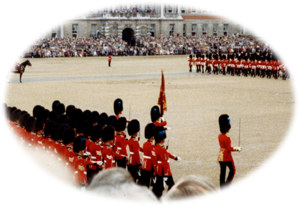 Trooping the Colour. Horseguards Parade, London. June 14th 1980
Normally taking place on the Sovereign's birthday, the Foot Guards performed this same ceremonial parade throughout Victoria's reign on May 24th, her birthday, although the queen was present at the parade only once, when 76 in May 1895.
King Edward VII, George V and George VI were all very keen on attending the parade.
In the reign of Elizabeth II the parade has taken place in June, normally in the middle of the month on a Saturday, in celebration of the Queen's Official Birthday, the official date of which is the first Monday in June. The Queen's actual birthday is April 21st but as the weather may be less kind at that time of year, Trooping The Colour has become a June event!
For more information about Trooping the Colour Click Here
Identifying the Guardsmen
For information about identifying different regiments
Click Here

With thanks to Jim White for his valued help and information


---

The Queen's Jubilee Celebrations, 2002

For an idea of the stunning visual feast to expect, check these earlier State events in Windsor

---

---


To contact us, email Thamesweb.



---