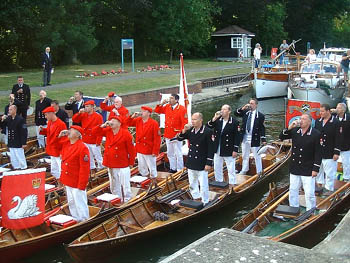 The Loyal Toast in Romney Lock.
The swan uppers turn to face the castle to toast the Monarch with the words
"Her Majesty The Queen, Seigneur of the Swans."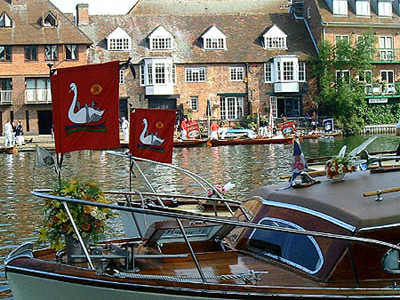 Preparing for departure, 18th July 2000, Eton Boathouses with
two support or towing boats in the foreground.

Departure, 18th July 2000, Eton Boathouses
The following photographs were sent in by Elaine and Morton Davis. We are particularly grateful to them for making available these excellent pictures from Culham Lock at the end of the Swan Upping event in July 2000.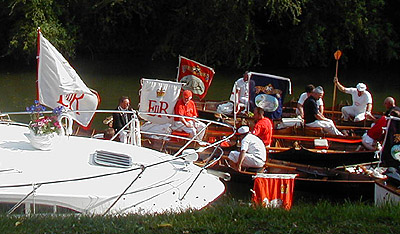 The Queens Standard, 'ER' upper left, and crews in red blazers.
The Dyers colours are navy blue and Vintners are white.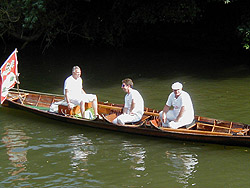 Vintners Skiff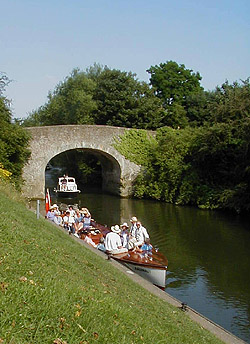 The Argonaut moors up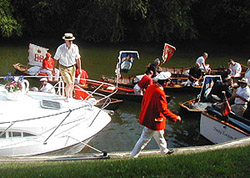 Another group picture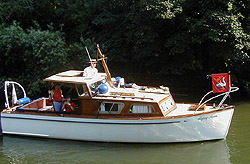 This launch, Flying Swan, sports the flag denoting that the boat is one of
the three support or towing boats for the Swan Upping from the Thames Vintage Boat Club.
We are grateful to Peter Skerritt of the Thames Vintage Boat Club and owner of Flying Swan who has written to tell us that the flag is flown at the bow to help identify the three nominated boats to Lock Keepers as they make their way up river.
Swan Upping Datchet 2004
Our thanks to Joy Girvin for the following photographs taken at Datchet during the 2004 Swan Upping.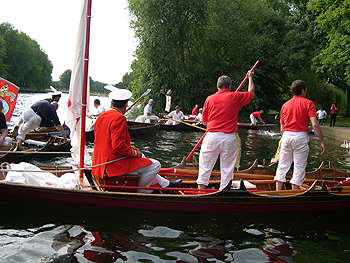 Rounding up the swans at Datchet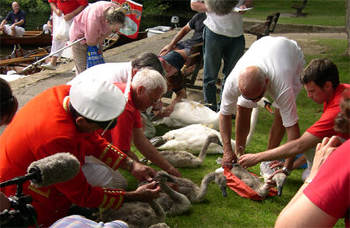 Here the cygnets have been caught and are weighed in a red bag before being marked and returned to the river.

The cygnets 'vital statistics' are recorded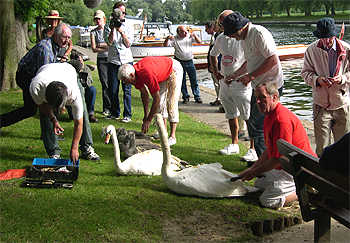 An adult swan is ringed.
---
---

To contact us, email Thamesweb.


---