We regret that Fulmer Plant Park closed in Spring 2003
A Quality Garden Centre
with A Surprise at the Bottom of The Garden!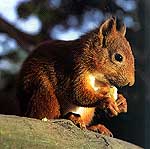 A visit to Fulmer Plant Park in Cherry Lane, Fulmer used to prove very rewarding in a variety of ways. Here the gardening enthusiast could find a wealth of quality plants and shrubs, in particular semi-mature trees, ideal for Millennium celebrations and tree-planting ceremonies, plus garden accessories and all the advice they needed but a surprise awaited them as they walked through the grounds of the Plant Park. Owner Eric Price had created an attractive zoo area in a valley garden setting with a variety of animals, the stars of which were a breeding pair of Red Squirrels. Breeding Red Squirrels in captivity is no mean feat - and Eric was remarkably successful.
in 1999 four young were born in the large enclosure that Fulmer Plant Park provided for them. Harry Pepper from a Forestry Commission Research Centre in Hampshire described the successful breeding as an admirable feat. "It is a rare event - it is not in the least easy, they must have the right conditions. They need space as the male chases the female in an essential part of the mating process."
Red squirrels have been under threat from the spread of grey squirrels for a number of years and although it is not clearly understood why greys should be so successful while the red squirrel population is declining but a breeding programme co-ordinated by the Zoological Society of Wales is ensuring that they will survive. In the North of England and in Scotland the Red Squirrel is not in competition with grey squirrels as they have yet to arrive in that part of the country, but the greys are moving north and it may only be a matter of time before the whole country is suffering the same fate as in the South East where the Red Squirrel in danger of disappearing completely from the wild. The Grey Squirrel is considered a menace by those involved in forestry, stripping bark from saplings and even mature trees to get at the sap wood which can lead to the loss of damaged trees.
Around 30 red squirrels are born each year in various parts of the country but no young had previously been reported in Buckinghamshire so for Eric Price and his assistant George Brown, this was a significant event. "Our work here is part of a National Breeding Programme to make sure that the species does not die out completely. It is very difficult and the first year was a failure. It is staggering how few people have seen a Red Squirrel so now we are really delighted that people can come to the Plant Park and see how lovely they are. We hope to be able to add to this success and make a significant contribution towards the Breeding Programme. Perhaps one day we will be able to reintroduce them to the wild."
George Brown described how he first heard squeaking from the nesting box in March and left them for nature to take its course. "The squirrels were born naked with closed eyes. They were lovely when they emerged, with snowy white tummies and tufts of fur growing from their ears. The mother was very protective of them."
---

To contact us, email Thamesweb.



---