Our Concept
for ThamesWeb's Royal Windsor Website
Introduction
We believe that the Internet or World Wide Web is, quite simply, an astonishing facility. Even though the Web is just days old in historical terms, we already have instant access to an infinite amount of information which is added to by the minute.
Thamesweb is creating an ever increasing information resource for Windsor. Several hundred stories and almost 1500 pictures have already been created and placed on the site since its inception back in 1998.
Almost daily we add to the content of the site so that it remains a valuable location for information about the town, accessible by anyone, anywhere, just anywhere, from around the corner to around the world. That is, as we said above, quite simply, an astonishing facility.
Perhaps we should illustrate the point with an example or two.
Example 1 - May 1961
Our first example is from 1961. What significant event happened in May of that year, evidence of which remains to this day? Why did the Queen and the entire Windsor Borough Council Officers and Councillors walk the length of the High Street?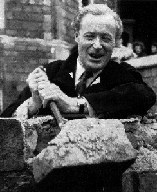 And why is the Rt. Hon. Duncan Sandys (above) attacking the castle wall with such gusto?
Older residents will remember that it was the occasion of the opening of the Civic Trust Improvement Scheme during which the 8' high Castle wall along the High Street was demolished to reveal the large expanse of lawn that now forms a fine feature around the Castle at that point.
In our story, The Civic Trust Improvement Scheme, we feature a report of that event, the work undertaken and pictures so that in the future everyone can find out about it instantly.
Example 2 - March 1947
At that time, there was a major flood in Windsor. Many residents still remember it. They know what areas were flooded, how long the flood lasted, what steps were taken to alleviate the problems and how the flood entered Windsor - and it wasn't over Barry Avenue Promenade!
As time passes, this information would have been forgotten and so would the personalities and the stories be forgotten too, both happy and sad. We have therefore provided Web pages about The 1947 Floods to form a permanent and readily accessible history of the event, and of course we invite Windsor residents to contribute their memories to provide a greater and more comprehensive record.
In the event that a flood occurs in Windsor again, we will include the very latest information about the situation.
Your support is valuable
Our objectives for this site cannot be met without your support, help and input. We want to hear your stories, borrow your photos and feature your reminiscences about the town. And we also welcome sponsors and advertisers without whom the whole venture will be far less comprehensive.
Remember that these stories may well be lost if they are not recorded. We do hope you will support us in this project in whatever way you can. Many thanks.
---


To contact us, email Thamesweb.



---