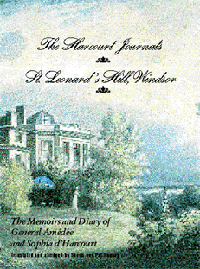 The Harcourt Journals
St. Leonard's Hill, Windsor
Sheila and Pat Rooney
The Memoirs and Diary of General Amedee and Sophia d'Harcourt
Sophia's diary was found amongst the archives of Clewer Parish Church and the major part of it concerns her life at St. Leonard's Hill where she had lived in the first part of the 19th century. Today, the fine house which once dominated the Hill is a ruin and the surrounding land covered by houses but Sophia's diary is a fascinating account of a more leisurely age and a privileged but tragic widow. Her husband, Amedee, was amongst the first of the many emigres who crossed the Channel to escape the Terror of Revolutionary France. He was sheltered by his cousins, the English Harcourts, and became aide-de-camp to General Harcourt [later Field Marshal, 3rd Earl William Harcourt] and fought with him in the War of the Low Countries. Commissioned into the British army his talents were soon recognized and he rose to the rank of General, travelling on missions from Russia to Capetown. He died not in battle, but in a riding accident outside his home. Sophia, his widow, inherited the beautiful house and estate of St. Leonard's Hill which was visited by George III, Queen Victoria and other European monarchs. The illustrations include some of the famous Bedford Lemere photographs of the house in its former glory and portraits of the French and English Harcourts who can trace their ancestry back to the Vikings.
ISBN No: 0 9505567 4 2
Includes 44 photographs, colour cover, 171 pages, paperback, indexed.
Price on application
Contact Windsor Local Publications History Group, Windsor, UK.