1914
Gustav Hamel Loops the Loop
as George V watches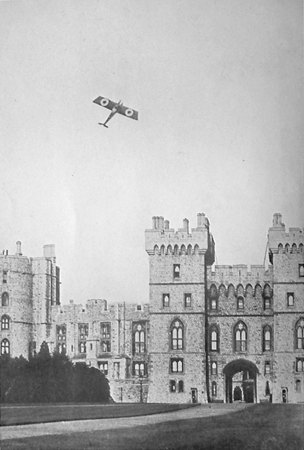 Gustav Hamel loops the loop over the George IV Gateway, Windsor Castle
From the book, 'Flying', by Gustav Hamel and Charles Turner. 1914
In his diaries, George V writes:
Monday February 2nd. Windsor Castle.
Beautiful bright day, mild and hardly any wind.
Gustav Hamel, the German aviator, flew here at 12.15 from Hendon. He went up and looped the loop fourteen times. Most interesting and wonderful to see with what ease he did it, and it was most graceful. All the Eton boys and many others were on the terrace and were delighted.

(With acknowledgements to Robert Lacey from a broadcast 'Book of the Week' 26th - 30th July 2004)
In the book, 'Flying', by Gustav Hamel and Charles Turner, the event is reported.
His Majesty King George V, who from the days when flying became possible, manifested keen interest in it - as, indeed, he does in every branch of science - expressed a wish to see this development of the art and on February 2nd 1914 an exhibition was given at Windsor Castle by an aviator who 'looped the loop' fourteen times on that occasion, observed by the king and queen and other members of the Royal Family. Afterwards their majesties conversed with the aviator for some time on the subject of flying.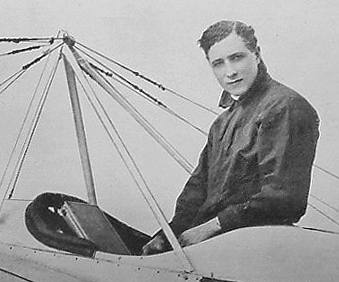 The aviator, Gustav Hamel
From the book, 'Flying', by Gustav Hamel and Charles Turner. 1914
A little less than three years earlier, in September 1911, Gustav Hamel had been the first to fly 'Aerial Post' from Hendon to Windsor. See Aerial Post but the very first aircraft to land at Windsor is believed to have been Thomas 'Tommy' Sopwith on Wednesday 1st February 1911 at the invitation of George V. Tommy Sopwith at Windsor
See also
---

To contact us, email Thamesweb.



---