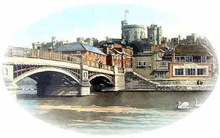 Royal Windsor Home Page
Royal Ascot Races Home Page
Our secret road to and from Ascot!
Save up to an hour of traffic jams with our secret, 'Jump the Queue' route map to and from Ascot and the M4.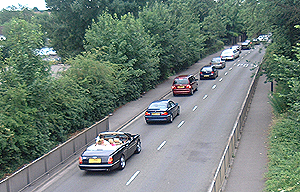 Miss this!!
This article describes a back route around Windsor avoiding the heavy congestion that builds up on the A332 from the M4, along the Windsor and Eton Relief Road through Windsor and past Legoland. The photographs were taken at 11.30-11.45am on Ladies Day so you can see that our route avoids a large section of congested traffic at the peak traffic time.
Our suggested route
Our suggested route will take you from the M4, Junction 6, further west of Windsor through the countryside, and deliver you close to Ascot Racecourse. As you get near to Ascot Racecourse police traffic alterations must be taken into account and are not covered in this route map. The route is approximately 14 miles and might take about 20 minutes. You could save as much as one hour. Thamesweb accept no responsibility for any loss or damage, financial or otherwise through the use of this route which is offered as a free service by the Royal Windsor Website.
FROM LONDON and the M4
Leave the M4 at junction 6.
Follow the signs to Windsor on the dual carriageway A332.
NB. There is no alternative at this point as river bridges are few and far between across the River Thames in this area.
Landmark: Elizabeth Bridge over the Thames
Immediately after the river bridge over the Thames, with Windsor and the castle on the left, LEAVE THE DUAL CARRIAGEWAY and follow signs towards Maidenhead, A308, turning right around the roundabout under the dual carriageway.
Follow this road for 2.6 miles. You will pass Windsor Racecourse and Windsor Marina on the right.
Landmark: Garden centre beside a roundabout.
Staying on the main road, shortly after the garden centre and roundabout you will come to a turning to the left signposted B3024 TWYFORD.
TURN LEFT HERE at the B3024.
Follow the signs towards TWYFORD for some distance.
Next Landmark: Cricket club on right
Immediately after Braywick Cricket Club, you will approach a cross roads at FIFIELD.
TURN LEFT AT THIS CROSSROADS. Signposted ASCOT.
The road is unclassified, with no road number. It is not however a farm track so don't worry. Even lorries can get along it without difficulty. You will then come to this junction, illustrated below.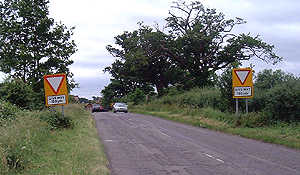 Landmark: 'T' Junction ahead
Proceed to this 'T' junction and TURN LEFT. Signposted Winkfield and ASCOT.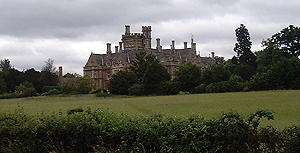 Pass NEW LODGE [above] on the right, an imposing grey Victorian Mansion.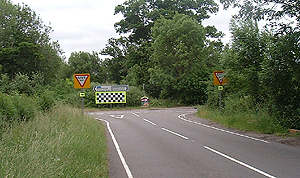 Landmark: 'T' Junction ahead
After 2 miles, turn right at a T junction [above] towards Winkfield. B3022.
Next Landmark: Guards Polo Club
Immediately past the Guards Polo Club, turn LEFT where the road forks left, on a bend. At this point you are very close to Ascot Racecourse and you may now encounter some queues. However, you will have bypassed several miles of other queues!
Next Landmark: Crossroads - converted pub now flats on right.
TURN RIGHT. After a short distance there is a Petrol Station on left
Follow road LEFT at next junction. Ascot Racecourse is now ahead of you. Follow temporary traffic signs to your selected parking area.
For the HOMEWARD journey, follow these directions in reverse.
Other great Ascot race meetings
You can enjoy great horse racing on many other occasions during the year.
For more information about other race meetings visit www.ascot.co.uk